Mountain Hardwear Trance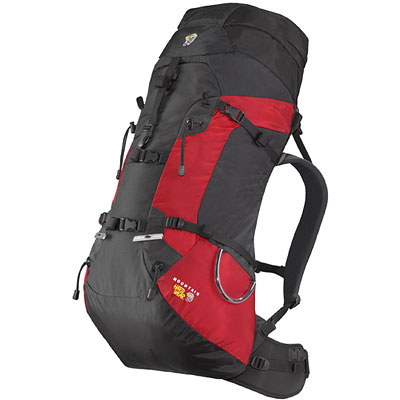 impressive build quality
tall, narrow profile
questionable tool attachments
3lbs 15oz
Mountain Hardwear enters the backpack business with a brand-new lineup that includes the Alpine-oriented Trance. The Trance is a framed technical climbing pack for multi-day trips and backcountry snow and ice.
You'll notice considerable similarity between the Mountain Hardwear packs and Black Diamond's established line of backpacks, suggesting the possibility of some cross-company collaboration—or perhaps a healthy dose of imitation. The Trance is no cheap copy, however. The pack has a variety of features that help give it its own identity. Even with a casual first inspection, it's evident that the Trance's build quality is high-end. Materials and construction are top-drawer, and I've no doubt that durability will be excellent. The Trance weighs a beefy but acceptable 3 lbs 15 ounces (measured).
As for design, the Trance is noticeably taller and skinnier than most packs in this category (plus a six-inch expansion collar to make it higher still). The Trance also features an angled bottom that further lifts the load up above the hips. Overall, the Trance's shape keeps the pack's center of gravity relatively high against the body. This gives the pack a more active, nimble feel. It also makes the pack more vulnerable to rearward torquing, and—potentially—problematic for helmeted users.
The Trance strips down nicely, shipping with a substitute, unpadded waist belt to further cut down weight. The frame looks suspiciously like Black Diamond's Y-Rod system, plus a contoured framesheet and tiny foam pad (a tad small to be a practical substitute for a bivy pad). The Trance's suspension is quite stiff, giving the pack above-average load carrying ability.
Surprisingly, the Trance's back is neither ventilated nor breathable. In all other regards, however, Mountain Hardwear has clearly given the pack's design a great deal of thought. In most cases, this leads to intelligent choices; in a few cases, the pack does seem overdesigned.
Despite the Trance's relatively light weight, the pack does have several needlessly bloated elements. The worst offender, inexplicably, is the pack's lid, which is quite heavy due to a preposterous nylon/velcro flap system intended (I assume) to carry a climbing rope. We otherwise see scattered features here and there which cross the line from appropriately durable to aggressively overdone.
The Trance employs several buckles that attach directly to the pack's body in a way that is always difficult to clip in and release. I'm also not a fan of the Trance's ice tool attachments, which fit by threading a stopper through the hole in your ice axe's adze. Given that the Trance and its siblings represent Mountain Hardwear's first foray into the Backpack market, these minor issues are understandable and, we may assume, will be refined in subsequent models.
In any case, Mountain Hardwear's entry into the pack competition is a highly welcome development. They've clearly made a serious effort to develop top-quality packs that offer unique and innovative features, and I've no doubt that as this line of packs evolve, they will soon rank among the industry's best.