North Face NSE Tent Bootie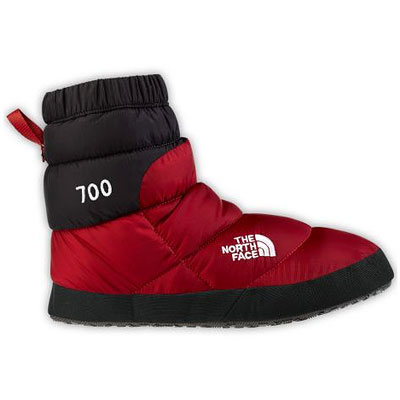 cushy, cozy, down
warm
not for scrambling!
11.6oz/pair
Think of North Face's NSE Tent Bootie as camp slippers. Put these on your tired feet after a long day on the trail and relax in comfort.
Made of 700-fill down, the Tent Bootie features a gently-lugged rubber sole and a water-resistant, ripstop nylon upper. You won't want to do any extended hiking or walking in these, but for wandering around camp, cooking dinner, or going to the bathroom in the middle of the night, the Tent Bootie is just about perfect.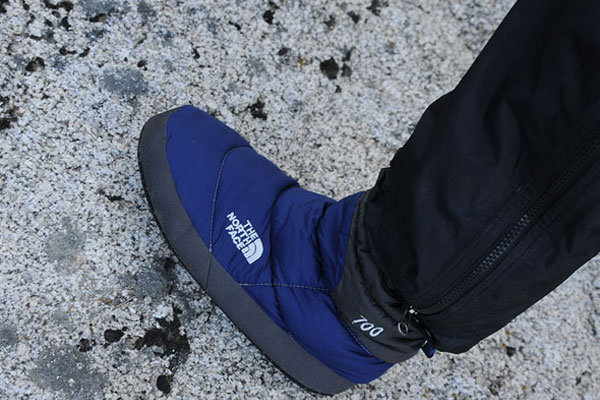 For three-season hiking, the North Face Tent Bootie may qualify as a luxury item.
Given the current trend toward leaving gear at home, you may be unwilling to pack the extra 11 ounces for something you don't technically need.
That said, having the option to get out of your stiff hiking boots at camp and lounge in luxury can make for a tempting option (especially if you tend to get blisters). And in colder weather, you may find the Tent Bootie becomes a far more valuable addition to your gear list. First, the down-insulated Tent Bootie adds a significant layer of warmth for cold feet—you can sleep in them if needed.
More importantly, the North Face Tent Bootie directly addresses an issue I've struggled with for many seasons now as a ski mountaineer: when you're snow camping, you need to get out of your ski (or mountaineering) boots to let them dry out. But what do you put on your feet? No one wants to carry heavy hiking boots just to wear around camp. And even if do bring hiking boots, they can easily prove to be a poor choice in deep, loose snow.
At an admittedly-significant 11.6 ounces, the TNF Tent Bootie offers a viable alternative. Within reason, they are absolutely water-resistant and warm enough to tromp around snow at camp. Obviously, you'll want to set up your tent and tromp out your kitchen first, but once that's done, the Tent Bootie (or its cousin, the Nupse Down Boot) works a lot better than bare socks in stuff sacks.
If such winter ventures lie beyond your ambitions, I should also mention that the Tent Bootie makes for a nice slipper even in the comfort of your own home. If you or someone you know has habitually cold feet, the Tent Bootie can help keep your toes toasty.