'Les Alpes du Nord a Skis'
— Anselme Baud
Anselme Baud's Les Alpes du Nord a Skis is first and foremost a backcountry skiing guide book featuring over 100 fine ski descents in the French Alps. But it is Baud's final section, on the Ski Extreme, that makes the book irresistable—whether or not you read French.
In the mid 1970's, Anselme Baud and Patrick Vallencant began undertook a series of ski descents of in the French Alps that radically redefinied the limits of possibility. Baud, along with Vallencant, pioneered the art of skiing 50 and even 60 degree faces. In fact, the two men essentially invented the technique (the pedal turn) that makes such steep skiing possible.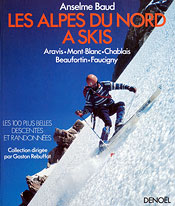 Les Alpes du Nord details several of these pioneering descents, including the North Face of the Aiguille du Midi, the Aiguille Verte's Couturier Couloir, and the horrifically steep north face of the Aiguille Blanche de Peuterey.
Of course, for ordinary mortals, the book includes a wealth of other routes throughout the spectacular Mont Blanc region, plus general ski mountaineering information, including gear and technique.
Unfortunately, as far as I know the text is only available in French (and rarely, at that). However, Les Alpes' perspective-defying photographs of skiers descending 50 degree faces are alone worth the effort of tracking down a copy.
In any case, one need not read French to appreciate the career of Anselme Baud, one of the sport's true pioneers, who remains active today as a guide in the Chamonix Valley.