'Climbing California's Fourteeners'
— Stephen F. Porcella & Cameron M. Burns
Climbing California's Fourteeners offers 183 routes to the summits of California's fifteen highest peaks. For sheer breadth of coverage, no other book offers as comprehensive a guide to California's fourteeners. While the majority of Climbing's routes involve technical, roped-up climbing, most peaks (there are a few notable exceptions) offer at least a Class 3 route to the summit.
That makes Climbing California's Fourteeners highly useful to hikers, scramblers, and climbers alike—each can choose the route best suited to their ability level.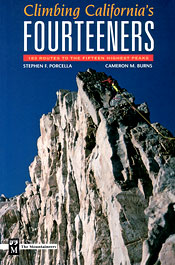 Authors Stephen Porcella and Cameron Burns don't skimp on approach information.
Additionally, nearly every route in the book is marked on an accompanying black and white photo (climbers, particularly, will like this feature).
That said, the book's style tends toward minimalism once you've gotten on-route.
I'll confess I've gotten lost more than once trying to follow Porcella and Burns' occasionally minimalist directions.
Then again, this guidebook certainly preserves the spirit of adventure, offering just enough information to get you on-route. It is not a guidebook for those seeking an abundance of hand-holding.
Beyond the details of trails and climbs, Climbing California's Fourteeners is noteworthy for the well-researched histories the authors include for each Sierra fourteener. These sections including first ascents tales, many of which make for striking reading (for example, the story of Clarence King's repeated efforts to be the first to climb Mount Whitney).
The sheer volume of climbing routes described on each peak offer ample opportunities for the ambitious climber/scrambler to get off the beaten path. Alternately, if your goal is to climb all of California's fourteen-thousand foot peaks, you'll find the information in Climbing an excellent start.