'Touching the Void'
— Joe Simpson
It is a dismaying truth about climbing and mountaineering that sheer audacity—and even foolishness—can be a potent ally in the effort to climb the world's hardest mountains. There is no reward for prudence other than the obscurity of survival.
Touching the Void could perhaps be dismissed as yet another sensational tale of fools in trouble in the wild, but to do so is to miss a most uncommon look at fate, choice, and the will to survive.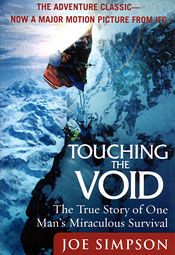 Joe Simpson and Simon Yates were hardly neophytes when they set out to test themselves upon the unclimbed west face of Peru's 21,000-foot Siula Grande—but neither were they elite mountaineers.
They were, however, extremely ambitious, and they were young and strong. Fate allowed them to climb their supremely audacious route, as fate sometimes does, but luck turned against them on the descent, whose difficulty they had wildly underestimated.
What happened on that descent—a true story—ranks among the most extraordinary survival tales in any genre. The sheer action of their story is enough to grip any reader, but it is the existential journey the two men undergo that gives this narrative its unforgettable, even transcendent impact.
Into The Void's two heroes are transformed on Siula Grande in their raw confrontation with death. One is reborn, suddenly freed of the limits he'd placed upon himself. In contrast, the other seems permanently ruined, despite his vigorous assurances to the contrary, by his utterly rational yet fateful choice to save himself at his partner's expense.
For the rest of us, this is a fully-realized experience of the mountains, from the ephemeral thrills of success to the bone-crunching consequences of playing in a world of rock and ice. Note: ski mountaineers should watch for the photo of the west face of Yerupaja, which was skied by Patrick Vallencant in the 1970's! The face is among the largest, steepest walls ever descended via skis.