'Climbing Mt. Whitney'
— Peter Croft & Wynne Benti
Peter Croft is one of our elite climbers, used to frolicking across the world's most fearsome ranges in record-setting 'one day' traverses. When a climber like Croft writes a guidebook, what seems easy to him is often so not trivial for everyone else. Neophytes beware: you may wish to upscale the author's difficulty assessments.
Ratings aside, Climbing Mt. Whitney is dedicated entirely toward gaining Mount Whitney's lofty summit. Unique to this guide is the author's step-by-step training program for first-timers, including instructions on how to hike nearby White Mountain for altitude preparation.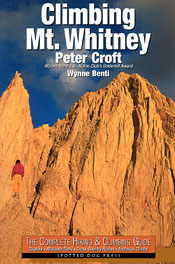 Croft also talks about Whitney history, with an entertaining section on the pioneers who first surveyed and climbed the peak.
Croft gives his own colorful rendition of the trials of Clarence King (who sought to be first to climb Mt. Whitney but kept climbing the wrong mountain instead), and the heated disagreements on Sierra geology between John Muir and the esteemed professor Josiah Whitney, King's boss and Chief of the California Geological Survey (after whom King shrewdly named the nation's highest peak).
Climbing Mt. Whitney has all the usual tidbits you'll need to know, including how best to secure a permit, what to bring, and what to expect. As a premier fast-n-light climber, Croft naturally includes a section on how to climb Mount Whitney in a day, making the case that the unburdened day hiker enjoys a freer, more spontaneous experience.
Croft devotes a significant portion of the book to technical climbing as well as hiking routes, including details on the classic East Buttress and East Face routes, plus a few gems from Whitney's neighbors: Mount Russell's Mithral Dihedral and Fishhook Arete, and the challenging Harding Route on Keeler Needle.
For the money, Climbing Mt. Whitney is certainly one of the more complete guidebooks, as well as being small enough to easily bring along for the climb. I particularly like Croft's emphasis on training regimens. By sharing his own training tips, Croft gives you the information you'll need to succeed on Mount Whitney.