'Wild Snow'
— Louis W. Dawson
In addition to being the first person to ski all 54 of Colorado's fourteen-thousand-foot peaks, Lou Dawson is a prolific author of skiing and climbing guidebooks, and the author of the web's best-known backcountry skiing blog, WildSnow.com.
Wild Snow, the book, features classic ski descents from across North America, including Denali's West Buttress, Mount Rainier's Emmons Glacier, and even Tuckerman Ravine on New Hampshire's Mt. Washington.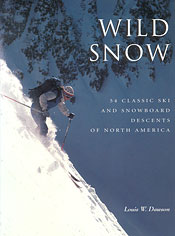 Dawson picks a fine sampling of descents to include in Wild Snow, but it is his interest in documenting not just the routes but the stories of the men and women who ski them that makes this book such a fine contribution to the backcountry snowriding community.
Wild Snow establishes Lou Dawson as one of the sport's very few historians—and an enthusiastic one at that.
If you've ever tried to find good sources of information on the history and development of backcountry skiing, you've probably discovered just how fragmented and spotty that history is.
Dawson remedies the situation by beginning Wild Snow with a chapter titled, "7000 years of Backcountry skiing: the History of Glisse Alpinism." In this ambitious section, Dawson takes us from skiing's ancient roots to its modern development, with a fascinating discussion of backcountry skiing's diverging evolution in Europe and North America.
Wild Snow describes such landmark achievements as Chris Landry's 1977 descent of the east face of Pyramid Peak in Colorado, Jean-Marc Boivin's ski descent of the Matterhorn's east face, and the more recent descent of Mount Robson's 60° north face in the Canadian Rockies.
Make no mistake, however: Wild Snow is also a guidebook. You'll find sections covering ski routes in all of North America's major ranges, with enough information to get you to the trailhead and stay on-route. Californians will enjoy ski route descritions of Mount Whitney's Mountaineer's Route, Mount Tom's Elderberry Canyon, Matterhorn Peak, and even Mount Baldy's Southeast Bowl.
Throughout the book, Dawson continues to weave people and places together, revealing himself as not only a notable alpinist but also a gifted storyteller—and making Wild Snow an informative and inspiring addition to any ski mountaineer's bookshelf.