'Day Hiker's Guide to Southern California'
— John McKinney
For those unfamiliar with Southern California, it inevitably comes as a shock to learn the region is home to a number of major mountain ranges, three of which—the San Bernardino, San Gabriel, and San Jacinto—top 10,000 feet and feature abundant winter skiing opportunities.
Beyond the big three, Southern California is also home to a gaggle of lesser ranges, including the Santa Monica, Santa Ana, and Santa Ynez mountains. All of these ranges are the result of the region's unstable tectonics, one of the very few perks to living in earthquake country.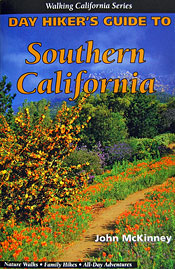 Given the inarguable wealth of alpine terrain throughout Southern California, there is a surprising lack of good hiking guidebooks detailing the region.
John McKinney's 'Day Hiker's Guide to Southern California' is one of these happy few. McKinney makes a game attempt to reveal the many, many trails that traverse the south ranges.
While many of these hikes are little more than nature walks through pleasant sagebrush country, you'll find plenty of challenging hikes as well, such as the Vivian Creek route on San Gorgonio, with its 6000 vertical foot gain.
Casual urban adventurers will appreciate this book's thorough yet gentle offerings. As the book's name suggests, Day Hiker's Guide to Southern California does not attempt to cover the various technical routes in the southern mountains. However, as a basic guide to the region, including roads, trailheads, and points of interest, McKinney's book nicely fits its niche.