'The Chuting Gallery'
— Andrew McLean
With its diminutive size and modest 90 pages, The Chuting Gallery looks just like one of those subversive manifestos the government is always trying to ban. Open it at your peril: your counter-education begins right away, with a warning to turn back from no less an authority than the author's own mother, all but ensuring you'll be hooked.
The Chuting Gallery is a no-frills catalogue of steeps in the Utah Wasatch. The author's descriptions of these routes are short but vivid, pulling no punches when it comes to convincing you of their inherent insanity.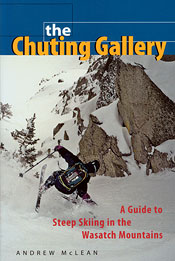 Take, for example, McLean's description of Little Cottonwood Canyon's Y Not couloir:
"Y not? A 40' cliff in the middle of a 45° slope is one good reason! This is the Y Couloir on steroids. Shorter, steeper, narrower, and scarier by far. An out-of control fall would lead to a graphic death as the victim pinballed down the chute, over the cliff, and was torn to bits in the rocks below...A 100' rope will just make the rappel (doubled) and crampons and ice axe are recommended."
It may be helpful to remember the author is describing not just a hardcore climbing route, but an alleged ski descent. While McLean does demonstrate a fiendish gift for making such endeavors sound reasonable, surely no rational being would try to ski anything of this sort.
And yet...it does sound kind of tempting, doesn't it? Ah, too late, too late! I warned you not to peek inside. Next thing you know, you'll be brushing up on your rappel technique, scouting for discontinuous lines, and labeling everything under 45° with a dismissive, "classic". Yes, there's an obvious dark side to skiing fall-to-your-death terrain. But, writes McLean, "I just can't help myself. It's too much fun."
Whether or not you should subscribe to this sort of 'fun' is debatable. Either way, you'll enjoy McLean's wry sense of humor, and his irrepressible enthusiasm for the super-steeps. Strictly speaking, the guide aspect of this book tends toward minimalism. Perhaps that's for the best—if you don't know how to get there, you probably shouldn't be there.