'Mountaineering: the Freedom of the Hills'
— The Mountaineers
Comprehensive and conservative, Mountaineering: The Freedom of the Hills is the essential starting point for those who want to learn the techniques and skills necessary to safely travel the backcountry. It may not be possible to learn Mountaineering entirely from a book, but this text will provide you with a solid foundation of skills and philosophy, as well as motivating you to never stop learning.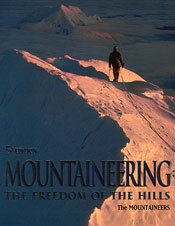 More experienced climbers will find themselves returning to the Freedom of the Hills again and again; the book is an invaluable reference.
As a continual work-in-progress, Mountaineering is regularly updated, ensuring that its content remains current as techniques and sensibilities evolve.
In my opinion, this is the mandatory starting point for aspiring alpinists. If you buy only one book on mountaineering, make it this one.
For your money, you'll get an astoundingly complete reference on nearly every aspect of the sport, from rock climbing to high-alitude mountaineering to winter camping techniques. The book is well-illustrated, with clear examples of each technique that will help you visualize and learn them. Equally important, Freedom of the Hills will inspire you: to climb higher, to respect the mountains and the land, to keep learning.
Mountaineering: The Freedom of the Hills is written for mountaineers by mountaineers. Whatever your level of development, the book will be your most trusted reference—and your best friend. Highly Recommended.