'Mount Whitney: The Complete Trailhead-to-Summit Hiking Guide'
— Paul Richins Jr.
With 'Mount Whitney: the Complete Trailhead-to-Summit Hiking Guide', author Paul Richins Jr. manages the nifty trick of authoring a guidebook that is simultaneously comprehensive and concise.
Richins' Mount Whitney is small enough to stick in your pack, but don't let the book's modest size fool you: you'll find an abundance of well-organized information inside, including sections on the history and geology of the Sierra, what to expect, what to bring, planning tips and permits, and of course both east and west-side hiking routes.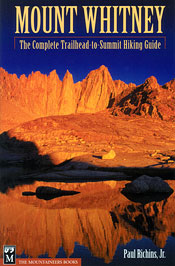 You'll also enjoy the author's unabashed (and contagious) enthusiasm for hiking Mount Whitney and the surrounding High Sierra.
Although the summit of Whitney is the end result of each hike described herein, it's the chase rather than the conquest that will appeal to many readers. Days might go by before you reach the summit, and these might well be the best days of your life. The interior of the High Sierra, invisible from any road and visited by few people, is one of the magical spots on our planet.

Elegant lakes occupy grand cirques. Streams of diamond clarity dart toward the canyons below. Marmots whistle from the talus, and mountain bluebirds hawk for insects near their nests in golden snags. Wildflowers. Meadows. Paradise. (from the introduction by Steve Roper)
To my eye, this is one of the better guidebooks for first-timers. The information is comprehensive, logically organized, and accessible. Richins writes for a diverse audience, avoiding many of the annoying conventions of mountaineering literature—such as employing arcane jargon, forgetting to mention key details, or understating risk.
For more experienced hikers, Richins includes in-depth information on a number of alternate routes to Whitney's summit, including a few you may not be aware of. Take special note of the west approaches, which cross the entire breadth of the High Sierra. Permits are far easier to obtain for these spectacular routes, any one of which would certainly make for an unforgettable adventure.
This emphasis on multiple routes and approaches—along with efficiently organized route information—helps distinguish the book from its peers, making Mount Whitney: the Complete Trailhead-to-Summit Hiking Guide a valuable addition to any hiker's bookshelf.