'The Last Step: the American Ascent of K2'
— Rick Ridgeway
At this point in my life, I think it's safe to say I will never climb K2, the world's second highest mountain—and I am very sorry to say the same is likely true for you, dear reader. Thankfully, Rick Ridgeway's The Last Step offers a stunning account of the first American ascent of K2, with writing so vivid and immediate you'll feel as if you're actually climbing alongside the author.
While Everest is of course the world's highest mountain, it is K2 that is perhaps the world's most coveted summit among hardcore mountaineers. At 28,250 feet, K2 is a far more aesthetic, remote, and challenging mountain. As of 1999, K2's ratio of deaths to summits was a sobering 1:4, so those of us who dream of climbing K2 can be forgiven for remaining safely in our armchairs.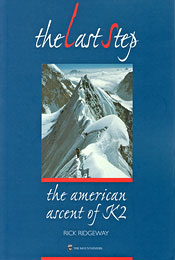 Americans were on the verge of climbing k2 first, reaching 7,750 meters in 1953 only to be turned back by storms. A year later, k2 was successfully summited for the first time by a team of Italians.
Americans returned to K2 in 1975, led by mountaineer James W. Whittaker, for a huge assault on the mountain that was plagued with problems, and ultimately failed.
Undaunted, Whittaker was determined to return to K2, this time hoping to learn from his previous expedition's mistakes. Infighting amongst the team members was one of the problems Whittaker blamed for the 1975 failure.
To prevent a repeat, Whittaker decided to audition the best American climbers, among them young Rick Ridgeway. It is from Ridgeway's point of view that we see the 1978 expedition that succeeded in placing Americans atop the world's second highest peak, despite nearly impossible odds against them.
The Last Step is a remarkable book on several fronts. First, though we know the expedition will ultimately succeed (the title says so, after all), the problems that arise soon become so overwhelming that success seems impossible. Consequently, the level of suspense is intense. It is difficult to put the book down.
More impressive, however, is the immersive experience that Ridgeway manages to generate. I've read many books on Himalayan expeditions, but never before have I actually felt that I was a part of one, experiencing every detail of what it's like to actually attempt an 8000 meter peak. If Whittaker's goal was to pick climbers who would not generate conflict, he was surely disappointed. Ridgeway unflinchingly documents the personality conflicts that built, innocently enough, into a deep schism that nearly tore the expedition apart.
Finally, Ridgeway describes every aspect of the expedition, from the tedious process of earning a permit from the Pakistani government, to the 200 mile approach, done on foot with an army of porters (who might at any moment go on strike), to the Herculean effort of pushing supplies up the mountain, camp by camp.
And of course, just as it appears the expedition will be successful, the weather turns. If you've ever wanted to join a Himalayan expedition, the Last Step is the next best thing to being there. Quite simply, it's an outstanding book.