'The High Sierra: Peaks, Passes, and Trails'
— R.J. Secor
It may be an exaggeration to call R.J. Secor a modern-day Norman Clyde, but the man does have over 600 Sierra Summits to his credit, giving him an enviable intimacy with California's glorious 'Range of Light'.
Since its first publishing in 1992, Secor's High Sierra quickly (and deservedly) earned a reputation as the must-have Sierra guidebook. Now in its fifth printing, the 2005 edition remains the authoritative guide to the High Sierra, covering "all known routes" on an astonishing 570 Sierra Peaks.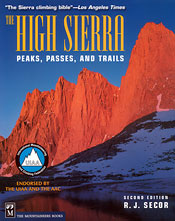 If you can name it, you'll probably find it in Secor's book. Such comprehensive coverage makes it possible to effortlessly look up a peak and track down all available avenues.
Secor pays greater attention to the Sierra's more famous destinations, of course, but even the shortest entries offer enough information to cover the essentials.
This allows the reader remarkable flexibility when it comes to choosing one's destination and route.
You can not only read up on a peak of interest; you can also quickly browse all its neighbors, perhaps forming a fine loop to hike or choosing a new target entirely. It should be noted that Secor defines the 'High Sierra' as the area between Yosemite's north border and Sequoia National Park's south border. That does leave out the Tahoe region—so Northerners beware! You'll need to look elsewhere for information on Mt. Tallac and Mt. Rose.
Also worthy of extra attention are Secor's difficulty ratings. As a consummate wanderer/scrambler, Secor's assessments may not necessarily agree with yours (especially if you are new to Sierra climbing). Wherever Secor assigns a Class 3 rating I recommend a healthy dose of skepticism. He may be correct, strictly speaking, in terms of climbing difficulty, but odds are you'll find other factors on-route which greatly enhance the sense of danger, real or imagined.
In any case, one should bear Secor no ill will for this stylistic quirk, which is all but ubiquitous in Sierra guidebooks (if I ever write a book myself, I'm going to call Whitney's East Buttress Class 3). If nothing else, it certainly preserves the spirit of Adventure, and if adventure is your goal, you won't find a better way to get started than picking up a copy of "The High Sierra."