'Climbing: Training for Peak Performance'
— Clyde Soles
Climbers are not generally known for the rigor of their training programs. One might be forgiven, then, for suspecting that a training manual specifically for climbers might be somewhat less than rigorous itself. In the case of Clyde Soles' revised 'Climbing: Training for Peak Performance', that assumption could not be further from the truth.
Climbing: Training for Peak Performance is both serious and comprehensive, rivaling the depth of information in my massive medical reference, Athletic Training and Sports Medicine while simultaneously managing to be quite a bit more current. But Soles, former senior editor at Rock & Ice magazine, is not interested merely in deluging the reader with information that will never be put to use.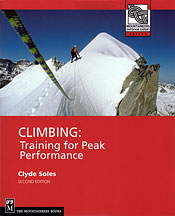 This is a book that is first and foremost concerned with finding real world solutions for the issues facing real world alpinists.
'There is a world of difference between training harder and training smarter—the former is a path to mediocrity, the latter the route to the top. When you train and eat haphazardly, no matter how many hours you put in, you are climbing Mount Analogue and the summit will always remain untrodden.' — Climbing: Training for Peak Performance
Climbing focuses not only on improving the bodies of hard-charging, fast-recovering young athletes, but of athletes of all ages and at all points in their careers. Soles directs considerable attention toward addressing the needs of alpinists and climbers who do not enjoy the benefits of a professional training staff and unlimited training hours—that is to say, you and me.
The author also emphasizes the critical point that your training regimen should prevent injury, rather than lead to it. In this regard, Soles critiques several of the currently-in-vogue gyms or fitness programs that employ what might be called an extreme boot-camp approach to fitness: take a large sample of hyper-motivated 19-year-old athletes, ruthlessly overtrain them, and then claim success when one or two of them survives and temporarily achieves elite performance.
The vast majority of athletes subject to such 'programs' break down, of course, leaving them worse then when they started.
That is not to suggest that Climbing offers an easy path to fitness. Rather, Soles' approach might be said to be based on informed pragmatism. Does it require hard work and discipline? Absolutely—but only in so far as it can be integrated into our already too-busy schedules, be it strength training, cardio work, or a nutrition strategy. And only if it is supported by evidence.
New information is constantly emerging from research laboratories. Soles help us navigate this often confusing barrage of information. I especially like the effort Soles has put into making his information current. The revised second edition (2008) often surprises with the freshness of its data, such as the latest on the COX-2 inhibitor drugs (ie, Vioxx, Celebrex), which were recently thought to be ideal replacements for NSAID's like ibuprofen.
Also noteworthy is the book's section on injury rehabilitation. which proves remarkably comprehensive. The sad fact is that many of us will suffer injury either at the hands of our sport or elsewhere in life. Climbing includes current information and strategies for dealing with everything from minor aches and pains to major injury.
While the information in Climbing is directly applicable for a wide range of sports, it is tailored for the needs of the alpinist, featuring sport-specific sections on training for rock climbing and high altitude endeavors.
If you are seeking a text that will gently encourage you to persist in halfhearted or half-baked training methods, this is not it. However, if you want a comprehensive, serious, and practical guide to nutrition and fitness from a climber's point of view, Climbing: Training for Peak Performance will not disappoint.