'Backcountry Skiing'
— Lito Tejada-Flores
Lito Tejada-Flores' guide to Backcountry Skiing is stylishly vintage, Nordic-flavored, and predates the domination of Gore-tex and modern ultralight equipment.
Despite the book's vintage flavor, however, the technical information remains highly useful and relevant. Tejada-Flores writes in a light, clear style that makes the information usually accessible.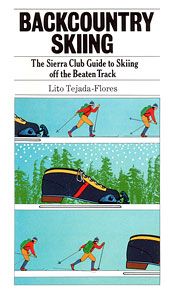 This is especially evident in his section on avalanches, and the life cycle of snow, which remains the most succinct guide to snow stability I've ever seen.
Tejada-Flores is a passionate advocate of the sport, and that is evident in his witty, engaging style. You'll find plenty of good tips and information in this Guide.