'Mount Whitney: Mountain Lore from the Whitney Store'
— Doug Thompson & Elizabeth Newbold
Over the years, the Whitney Portal Store has evolved into a gathering point for the Mount Whitney hiking and climbing community, with a thriving online discussion board filled with the current information on Mount Whitney. That sense of community can make you feel right at home when you open up Mount Whitney: Mountain Lore from the Whitney Store, as if you've just stepped into the company of good friends or even family.
Portal Store Owners Doug Thompson and Elizabeth Newbold have taken their unique experience and written one of the more interesting—if eclectic—Whitney guidebooks. While the title might make you think the book is more a collection of Whitney stories, rather than actual route information, the book proves to be a remarkably comprehensive source.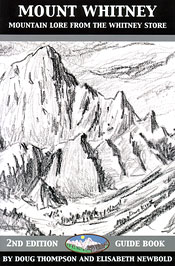 And the authors work constantly to capture the essence of an experience that is unique for each and every visitor to the Whitney region:
"People climb Mount Whitney for many different reasons. Some have done it to win a bet. Many seek to accomplish a goal they have set or to prove themselves. Others do it regularly as a pilgrimage for spiritual renewal. It serves as an escape from the complexities of our mixed-up world and gets us back to the basics—left foot, right foot, breath in, breath out. Physical exertion relieves our mental and emotional stress, and there is a great view to reward us for perservering!" — Mt. Whitney: Mountain Lore
Of special note for first-timers attempting to climb Whitney, Mount Whitney: Mountain Lore is one of the few guidebooks suitable for true newcomers to the region.
Unlike many of the more popular titles on Mount Whitney, Mountain Lore doesn't automatically downplay the challenges hikers and climbers face on Whitney. The authors stress the need for preparation, proper equipment, and a proper attitude. They've got more than a few suggestions on how to prepare for your hike, and how to get up and down safely.
But ultimately, if you're not ready, they'll let you know. Mount Whitney: Mountain Lore talks openly about how difficult and potentially dangerous the Mountaineer's Route can be. Beyond issues of routes and climbing, Mount Whitney: Mountain Lore from the Portal Store surely offers one of the most ecclectic collections of histories and personal accounts related to Mount Whitney.
Reading about Whitney through the eyes not only of the authors, but also of various visitors who have passed through the Portal Store's doors over the years makes for an interesting experience. The variety of perspectives helps to capture the Whitney Adventure in a way that no single viewpoint could, making this a guidebook of interest not only to those new to Mount Whitney, but also those who keep coming back for more.