'Extreme Alpinism: Climbing Light, Fast, & High'
—Mark Twight and James Martin
If Mountaineering: The Freedom of the Hills is the climber's bible, then Mark Twight's 'Extreme Alpinism' is pure heresy. It seems there's no climbing rule Twight isn't willing to break, making his book more than a little dangerous in the wrong hands.
On the other hand, if you're an advanced mountaineer looking to push the limits, you'll find Twight's book extremely interesting when it comes to confronting problems that lie beyond the scope of traditional methods.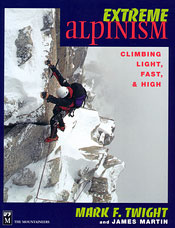 Twight's climbing resume is impressive: he has climbed Nanga Parbat's extraordinary Rupal Face. As you might guess, you don't succeed in such endeavours unless you're driven, talented, and inventive.
The author reveals practical solutions to the real-world problems of 'extreme' alpinism, such as how to drive in a ice screw while you're hanging from your axes on an exposed 80 degree face.
Beyond practicalities, challenging conventional wisdom is the centerpiece of this book, which argues—convincingly!—that the "10 essentials" are dead weight (and thus a liability) in your pack if you don't need them.
If advice like that sounds shocking or irresponsible, just wait 'till you read Twight's high-altitude modification for canister stoves. Twight also makes a case against GoreTex shells and the gospel of the traditional layering system for staying warm in the wilds. Ultimately, Twight believes in distilling everything—technique and gear—down to only what is absolutely essential for success.
The author's willingness to set aside convential methods has served him well on some of the harshest climbs on the planet. You may find his techniques valuable for your own endeavours. But beware: less experienced mountaineers should learn the rules before breaking them.