Arcteryx Palisade Pant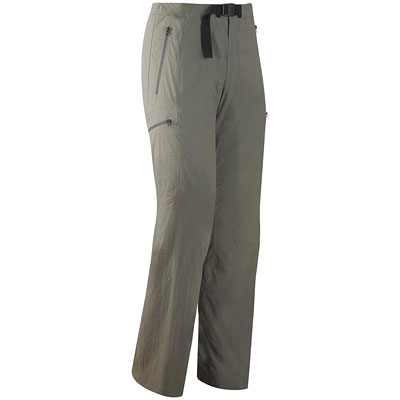 hiking/climbing
DWR finish
integrated belt
10.2 ounces
Arcteryx's high-end Palisade Pant is just about as light a pair of pants as you can find for hiking, rock climbing, and general backpacking.
The Palisade weighs in at an impressive 10.2 ounces (men's 30-30, measured). Using a nylon-Lycra blend, Arcteryx has produced a fabric that is ultralight, durable, and breathable, with the just the right bit of stretch to it to make for a trim yet comfortable fit.
Some of us, I know, are fairly committed shorts-only hikers. But the Palisade Pant might just tempt you over to the other side. Obviously, if you're going rock climbing, you're going to want something covering up your legs most of the time. For that context, the Palisade Pant is ideal. And if your agenda includes bushwhacking through thorny venues, you'll be glad you've got the Palisade along as well.
But even for ordinary on-trail hiking, it's always nice to keep you legs covered for sun protection, and the airy Palisade will keep you from overheating. Be sure to check out the Palisade's remarkable ability to shed water. The fabric is not waterproof, but it is coated with a very effective DWR barrier. Hold it under your faucet for a truly hydrophobic demonstration. This will easily get you through light rain...and probably quite a bit more wet weather as well.
If you do get wet, the Palisade is quick-drying. I like the Palisade's abundant zippers—two side pockets, one rear pocket, two thigh pockets—and I was very impressed with the pant's sleek, integrated waist belt. The belt is thin enough to avoid causing trouble with your backpack's waist belt, yet offers all the functionality of a regular belt. And the waist's interior is lined with a soft chamois fabric to prevent chafing. You also get draw cord-compatible cuffs on the trousers. Very sharp!
Dislikes? The Palisade's fabric does have a bit of a crinkle to it, making the shushing sound when you walk that is common to synthetic pants, as opposed to good old cotton. It's not as soft a fabric as my heavier Colombia hiking pants. Then again, my heavier Colombia hiking pants are...heavier. A lot heavier.
I should say that Arcteryx has really put together a solid pant here in terms of build quality. These look like they cost a fortune: the design is handsome and intelligent, and all of the stitching is top-notch. The Palisade is offered in a full range of men's and women's sizes, not just the usual S-M-L options, so you can get the right fit.
If you're used to hiking in pants, you'll take to these right away. And if you need to bring along a pair of pants for climbing, the 10.2-ounce Palisade will likely win you over with its sharp design and just as sharp performance.