Outdoor Research Cirque Pant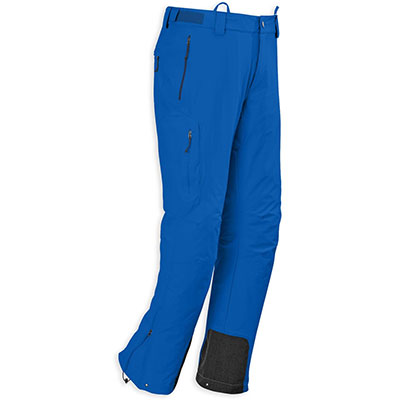 technical softshell
high output climbing & skiing
weather-resistant/breathable
1 pound 2.1 ounces
At some point I realized my backcountry ensemble was starting to enter a Mao phase. To reverse the trend, I've begun actively seeking more colorful gear and clothing.
So I was drawn to Outdoor Research's Cirque pant not so much because of my high regard for OR's Igneo pant, but because of the Cirque's 'glacier' blue option. How are the pants themselves? Who cares—the color is awesome! Seriously, I was looking for a technical spring softshell that would be more ski-oriented than my otherwise outstanding Arcteryx Gamma LT pants.
And I do prefer bright, vibrant colors. So I picked up a set of Cirque pants to check them out. At one pound two ounces (men's small, measured), the Cirque is light but not ultralight. However, the pant is specifically designed with ski touring in mind. This means you get built-in cuff reinforcement, plus cuff zippers and a cinch cord to prevent snow from invading.
You may not think of Outdoor Research as an outerwear maker, but they've made an impressive push into the market by offering durable and functional technical clothing distinguished by exactly those sorts of clever, climbing-oriented design elements that we used to find on brands like You-Know-Who before the suits took over.
With OR's clothing, you immediately get the sense the gear has been designed by slim and fit people who are climbing and touring nuts. Needless to say, I tend to identify with such an approach. Unlike the Igneo Pant, the Cirque adds Velcro waist tabs to get the fit just-so. In the field, the Cirque's softshell material is stretchy and breathable, with just the right touch of wind resistance.
I think it's a great spring touring pant, with enough versatility to double as your summer (high altitude) hiking and climbing pant. The interior is soft and comfortable next-to-skin, and the pockets double as vents. Expect a close fit. Construction and quality are high, price is competitive. This is an easy pick for me—recommended.