Marmot Precip Pant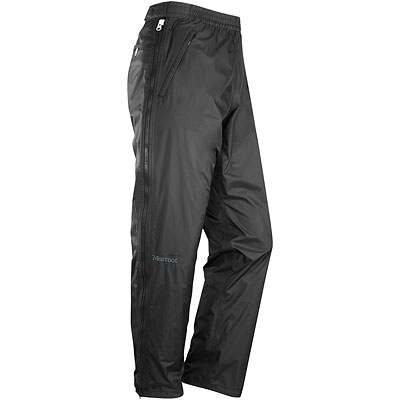 economical
waterproof/Breathable
not officially 'technical'
11.1 ounces
Officially, Marmot's PreCip Pants are listed as rainwear, but that hasn't stopped them for becoming one of my favorite hard shell pants for all-around use.
I wanted a lightweight waterproof/breathable shell pant suitable for fair-weather summit assaults and spring skiing. The full-zip PreCip pant seemed ideal, though I was concerned about its durability. Still, at this price point (half to a third the cost of Gore-Tex) I felt it was worth experimenting. I'm glad I gave the PreCip pant a chance. For the past three seasons they've been my primary ski mountaineering pant—and they've performed admirably.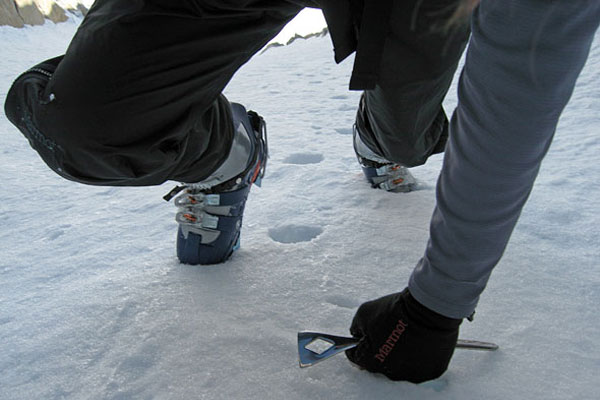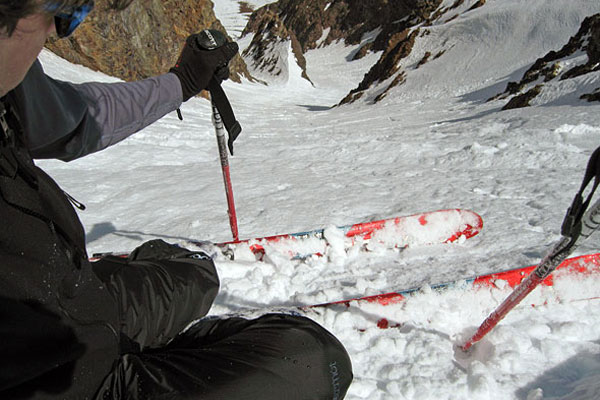 Like the North Face's Venture Jacket, the PreCip Pant eschews the usual Gore-Tex construction for a less expensive alternative.
In the PreCip's case that alternative is Marmot's PreCip™ barrier—a polyurethane coating impregnated with silicon dioxide particles. The particles are said to create consistent micropores in the coating, allowing water vapor to pass through while remaining waterproof.
Subjectively speaking, I would say the PreCip technology offers competitive breathable/waterproof performance. I've slept more than once in the PreCip pant, which provides an excellent test of how well a fabric breathes—or doesn't.
The point is somewhat moot, however, since the PreCip Pant has full side zippers. You can always vent these to your heart's content by simply pulling the zips up or down. Full-length side zippers have always been a key feature for me when it comes to ski pants. The convenience of being able to get into or out of your pants without taking off ski boots (or crampons) is a huge plus in the backcountry.
As for the important issue of waterproofness, I've sat down for lunch many times directly on wet snow in the PreCip Pant. Each time, the PreCip kept me dry—and the coating continues to hold up well as time passes. I can't say I recommend these for heavy duty. Don't expect these to survive a full season of in-bounds skiing, for example. The cuffs are not reinforced. The fabric in general is thin. You can easily shred these with crampon points.
But I love the slim, no-frills design of the PreCip pant. I especially like the discrete draw cord at the cuff, which allows you to cinch the pant tight against your boots to keep the snow out. The side zippers, I'm sorry to say, do tend to catch on the pants' thin fabric. That hasn't been a deal breaker for me; it's often just a fact of life for full-zip pants.
If you can handle these minor issues, the PreCip pant does a fine job doubling as an ultralight technical shell at an unbelievable price. Don't need a technical pant? Three-season hikers looking for a light but breathable rain pant will find the PreCip just as ideal.