Smartwool Microweight Bottoms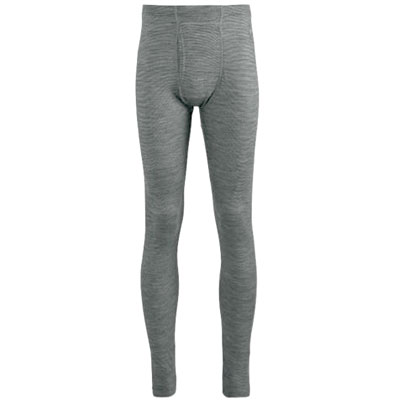 ultralight
odor-resistant
unequaled comfort
5.6 ounces
You'd have to switch to cotton long underwear to best the next-to-skin comfort of Smartwool's Microweight bottoms. Light and wonderfully thin, the Microweight bottom is the thinnest, silkiest wool baselayer I've yet found.
And, unlike cotton, Smartwool's bottoms do an outstanding job keeping your skin drier when you sweat—as well as keeping you more comfortable when you get wet. Smartwool technology really does produce 100% wool garments than are soft and non-irritating. If you haven't yet tried it, I highly recommend it.
Compared to synthetic fabrics, wool offers a number of advantages, including superior wicking ability, effective insulation even when wet, and none of that awful clammy feeling you get when you crawl into a sleeping bag dressed in nylon. Traditionally, synthetics do dry out faster than wool, but the genius of the microweight series is that dries very nearly as fast because it's so thin.
Smartwool's Microweight Bottoms, as you might guess, are also quite light. The 5.6-ounce (Men's Medium, measured) Microweight Bottom virtually ties Patagonia's synthetic Capilene 1 long underweight in weight. That means if you're taking your long underwear primarily as insurance for summer backpacking, you're not carrying any extra weight.
The Microweight layer is best advised for warmer conditions. This isn't a winter insulation baselayer, as should be obvious. I positively love it as a backcountry pajama bottom for sleeping comfort. Be sure to consider it also if you're running a fast-and-light summit bid where you need to shed ounces and manage moisture.
Smartwool's entire series of long underwear baselayers have come to dominate my closet these days, and it's easy to see why. Wool outperforms synthetics now in all but a very few contexts, making these the most comfortable and smart choice you can make.