Marmot Scree Pant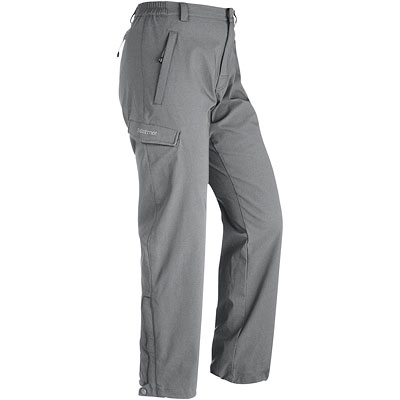 economical
breathable
3-season versatility
15.8 ounces
Marmot's Scree pant is the workhorse of the family: a no-frills softshell that delivers all the functionality you need at a great price.
If you're new to the wonders of softshells, they are stretchy, highly breathable, highly durable, and quite water-resistant (though not waterproof). Softshells can replace a traditional hardshell in a wide range of conditions, serving as both inner and outer layer to maximize comfort and performance. Come Spring, Summer, and Fall in the High Sierra, a good softshell pant is practically indispensable.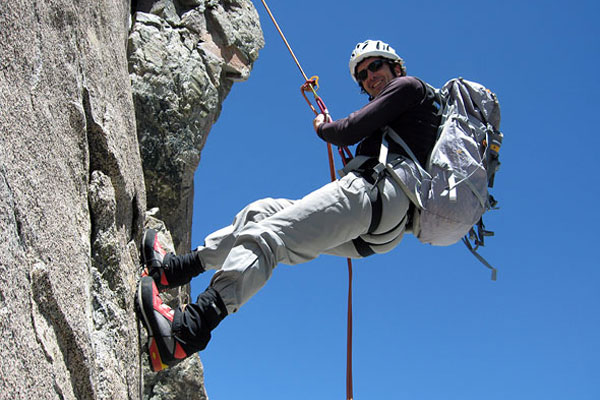 The Scree pant uses Marmot's proprietary M3 fabric—their lightest and most breathable softshell textile.
This allows you to wear the Scree on approach, even when the weather is warm, for sun, brush, and bug protection. At night, you can sleep comfortably in the Scree. The fabric is soft and pleasant against your skin, and the breathable weave offers a little extra warmth without making you feel clammy inside your sleeping bag.
Stretchy fabric proves ideal for scrambling and rock climbing ventures higher on the mountain, and if you need to cross a snowfield or glacier, the Scree easily sheds snow and ice.
The Scree will not replace a true rain shell in the event of a sustained downpour, though they will certainly get you through a temporary spot of rain. Where truly foul weather is concerned, you should be aware that the Scree's breathability can work against you—especially in cold, windy conditions. Backcountry skiers may find too much wind gets through when skiing down at higher speeds.
Feature-wise, the Scree has short zippers at the ankles (to facilitate getting the cuffs past shoes), plus a cinch cord on the cuffs to lock the pant over your boots. There are three zipper pockets up top and one Velcro pocket on the leg. The pant has a bit of an elastic waist, but also has belt loops so you can wear a belt if needed.
Durability proved impressive. The Scree had no trouble surviving a few good pokes with my steel crampon points, suffering only minor pinprick holes, rather than shredding into strips as most hard shells would. Total weight is a reasonable 15.8 ounces (measured), men's medium.