North Face Base Camp Duffel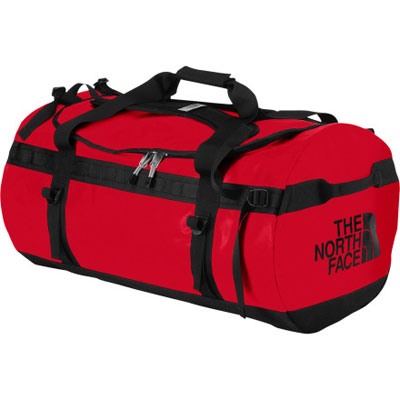 some water-resistance
rugged
backpack straps
3lbs 5oz (medium)
North Face's wildly popular Base Camp Duffel bag comes in four sizes, from the 42-liter Small to the whopping 140-liter Extra Large.
The Base Camp is a heavy duty duffel designed to survive everything from airline baggage handlers to far-flung expeditions. The bag is robust in its construction, to say the least: my 70-liter medium bag weighs a non-trivial three pounds, five ounces (measured). The bulk of this weight comes from the Base Camp's fabric, which is a very sturdy PVC-coated nylon.
The fabric confers a high degree of water-resistance, but be aware that the seams are not sealed, so the bag itself is not waterproof. Probably the North Face would be best advised to just seam-seal the damn thing, in which case you could swim with the Base Camp and your gear would stay dry. As is, however, under the wrong circumstances (say, sitting for hours on the tarmac in a rain storm) your gear could get wet—so be advised.
The Base Camp duffel comes with a formidable array of features, including two exterior daisy chains, haul handles on the ends, an ID pocket, four compression straps, and an internal mesh pocket sewn into the lid. As you'd expect, the bag's interior is comprised of only one, undivided main storage chamber. The bag's backpack straps are noteworthy: these allow you to load it up and wear it as a pack, which is sure to come in handy when you're struggling to haul gear across multiple airport terminals in some exotic foreign land.
Complaints? If you don't actually use all of the Base Camp's straps, they do tend to feel a bit excessive. This is especially true of the backpack straps. They are not quick-release, for one, which forces you to unthread them through their buckles when it's time to remove the straps to check your bag. And, if you only want to sling the bag over your shoulder, you'll have to thread one strap cross-wise. There is no simple, dedicated shoulder strap.
I'd like to see the basic design of the Base Camp edited down to a leaner version for those of us who aren't planning on hauling all our ice gear to Kathmandu—and I'd definitely prefer a simple shoulder strap as the main haul option. That said, the Base Camp's bombproof construction ensures you'll never wonder whether the straps are going to pop off no matter how much weight you put in it, and the heavy duty fabric offers as much protection as you can possibly get short of a hard case. I'd expect long-term durability to be excellent.