'Eiger Dreams'
— Jon Krakauer
Eiger Dreams: Ventures among Men and Mountains is a motley collection of stories from mountain country by Jon Krakauer, author of Into Thin Air.
Krakauer's writing is both compelling and immediate as he explores the mountains and the people who travel them while effectively avoiding either an excess of melodrama or the clinical detachment common to mountaineering literature.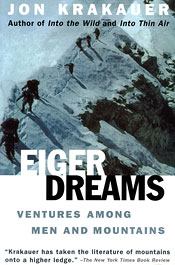 A surprising strength of Krakauer's writing is his willingness to interject himself into the narrative without withholding embarrassing details. He thus offers first-person accounts that makes no effort to hide the author's successes and mishaps.
Eiger Dreams serves as a fine vehicle to carry the reader to exotic locales, such as the harsh slopes of Denali, or the infamous north face of the Eiger, that they will likely never see in person.
Call it arm-chair mountaineering at its best.