'Into Thin Air'
— Jon Krakauer
As a client on a commercially guided tour, Jon Krakauer (Eiger Dreams) reached the 29,028 foot summit of Mount Everest in the early afternoon of May 10, 1996. Only a few hours later, a raging storm would strike the mountain, nearly costing Krakauer his life. By morning, five of his fellow climbers were dead.
Into Thin Air is Krakauer's account of the climb and the aftermath of the tragedy—or debacle, depending on one's point of view.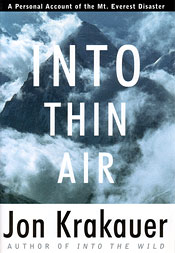 The question that torments him, above all else, is why? Why do human beings knowingly risk their lives to climb mountains?
Krakauer writes:
There were many, many fine reasons not to go, but attempting to climb Everest is an intrinsically irrational act—a triumph of desire over sensibility. Any person who would seriously consider it is almost by definition beyond the sway of reasoned argument. The truth is that I knew better but went to Everest anyway. And in doing so I was a party to the death of good people, which is something that is apt to remain on my conscience for a very long time.
This is a damning account of the commercial guiding industry, particularly as concerns Everest, and of high-stakes mountaineering in general. It is striking to me how Krakauer and his editors at Outside magazine got exactly what they wanted: a firsthand look at the perils of paying $50,000-$60,000 for the right to be shepherded up Everest. The situation was ripe for catastrophe, and the perfect storm did indeed hit, taking the lives of greenhorns and expert alpinists alike.
Krakauer made a surprising number of enemies with this book. Perhaps they misunderstood Krakauer's personal struggles to cope with his experience on Everest with an attack on mountaineering in general.
Into Thin Air makes a strong case that mountaineers never climb alone; they imperil not only their own lives, but the lives of their loved ones back home, who are thus unwilling participants in these expeditions, and who will remain behind, should the worst occur, to deal with the aftermath of having one's world shattered.
This is perhaps not a sufficient reason for mountaineers to abandon their passion. But it is certainly food for thought for those of us who venture into the mountains—guided or not.