'The Blizzard of Aahhhs'
— Silly, Sensational, and Serendipitous
To those of us who first saw 'The Blizzard of Aahhhs' when it was released way back in 1988, getting a copy today is like a visit from a long lost friend. What a joy it is to pop 'Blizzard' into the dvd player and relive the adventures of director Greg Stump, and skiers Glen Plake and Scott Schmidt and company as they launched themselves into ski film immortality.
As 'Blizzard' approaches its twenty year anniversary, the film is still a high mark in the ski film genre, neither dated nor stale. Its ability to evoke the passion and beauty of our sport remains formidable thanks to what can only be called an extraordinary synergy of personality, talent, photography, location, music, and luck.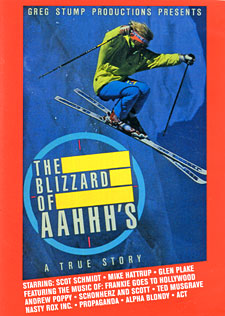 Greg Stump's 1988 (!) effort coincided with a huge wave of change that swept through the skiing world. However you look at the film's role in that change, it is nearly impossible to overstate the impact 'Blizzard' had on North American skiers.
It may be difficult to believe today, but before Stump's 'Blizzard', the heroes of the ski world were all racers. The big names in the sport were Ingemar Stenmark, Tamara McKinney, Phil and Steve Mahre, Marc Girardelli, and others like them.
Young skiers aspired to become racers. It was a badge of honor to be seen running gates on World Cup racing GS and Slalom skis. And then came Stump's film, which thrust Warren Miller-regular Scott Schmidt into the limelight, and turned unknown dirtbag skier Glen Plake into an overnight sensation.
The skiing world would never be the same.
Even if you ignore 'Blizzard' the sensation and just focus on 'Blizzard' the film, this is every bit a timeless classic. Enjoy the simple beauty of Schmidt, Plake, and Mike Hattrup repeatedly hitting the same kicker and seeming to float above the Chamonix Valley.
Enjoy the silliness of Stump's 'Wheel of Destruction' segments. Enjoy the then-cutting edge soundtrack. Enjoy, above all else, the uncanny serendipity that gave us this most-irreverent of masterpieces. Highly recommended.