August 27, 2009
When I close my eyes I see granite. Gray-white blocks angle sharply beneath my feet, plunging downward past my rubber-tipped toes. I press my back against a wall of rock as if I could somehow dissolve myself into the mountain. Everything feels like it's moving—the rock, the ground, the air—all conspiring together, pushing me toward that void (more…)
August 25, 2009
Matt DiPietro's blog, sierrajournal.com has debuted a new look and added functionality. Sierra Journal started as primarily a backcountry skiing website, but has grown nicely into a source of broad news and features on the Sierra year-round. And of course, you'll also find regular inspiring reports from yet another cool climbing or skiing trip that Matt has failed to invite me to join.

Matt's goal with the new design is to emphasize community building. Sierra Journal adds a new forum space, plus other interactive goodies intended to get visitors involved in the site's evolution.
August 24, 2009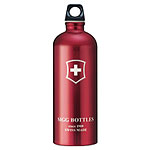 As of August 2009, Sigg has revealed that the secret ingredient in their top-secret formula was, in fact, BPA. SierraDescents' position on BPA in water bottles has (hopefully) been clear: since good alternatives exist, I see no reason to use containers where BPA is present, and no need to get into endless arguments about just how dangerous (or not) BPA actually is (more…)
August 16, 2009
Mount Whitney's East Face is perhaps the classic Alpine climbing route in the Sierra, featuring an otherworldly mix of moderate climbing and breathtaking exposure. I had wanted to climb the East Face from the moment I first summited Whitney—but at the time it seemed like a dream that would permanently remain unfulfilled. Last weekend, I got the chance to give it a try with help from Kurt Wedberg of Sierra Mountaineering International (more…)
August 7, 2009
Off to Whitney to try to redo a climb that got canceled last June when a surprise snowstorm blew in over the Sierra. This time looks like a go. I'll be carrying a record number of cameras for the trip, including two HD video cams (three if you count my new D5000), so I hope to be able to put together the most media-rich trip report ever when I get back. If all goes well.

No updates 'till next week, so have a great weekend.
August 5, 2009
The New Yorker has a fascinating piece on SPF ratings in suntan lotion. Looks like I may have to rethink my standard SPF 50…