September 24, 2013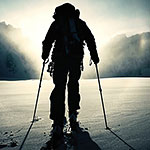 Fall at last is here, and with it we have the newest Powderwhore film, "Elevation", in which brothers Noah and Jonah Howell continue their quirky but heartfelt mission to spread the word. As you'd expect, Elevation showcases the Powderwhores' remarkable knack for finding and photographing deep snow—but it also deepens their growing interest in documenting the people who ride it (more…)
November 16, 2012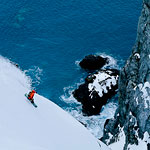 If you ask me, brothers Noah and Jonah Howell, a.k.a. the Powderwhores, appear to be in the midst of a transition phase. 'Choose Your Adventure' is their latest film, and in it they continue to demonstrate how accomplished they've become at shooting skiing. Year after year, the whores take their camera and their Mac and they churn out ski films that increasingly rival the polish on the very slickest of big budget operations (more…)
November 28, 2011
One of the most satisfying things a great film can do is also one of the simplest—it can take us someplace we've never been before.
Michael Angus and Murray Fredericks' film, 'Salt', takes us deep into the immense 3,700 square-mile salt flat of Australia's Lake Eyre—perhaps the most featureless place on Earth (more…)
November 22, 2011
I was skeptical as to whether or not I'd like the 'The Swiss Machine', but it was definitely on my must-see list.
Ueli Steck's fame skyrocketed when he successfully soloed the north face of the Eiger in an astonishing 2:44:33. 'The Swiss Machine' not only tells the story of the climb—it actually shows us the climb (more…)
November 17, 2011
Anson Fogel's 19-minute Alpine documentary 'Cold' was one of the films I was most looking forward to seeing in Graz.
The film documents the efforts of Simone Moro, Denis Urubko, and American Cory Richards, who on February 2, 2011 became the first people to summit Pakistan's 26,362-foot Gasherbrum II in winter (more…)
October 10, 2011
Dustin Farrell's 'Landscapes' features truly some of the most amazing night sky time-lapse photography I've ever seen, much of it done in good old Arizona. Who knew they had such pretty rocks to shoot over there? If I'm reading the info correctly, this was shot as RAW stills, not video frames, and (I hope!) batch-processed in Photoshop. Either way, this was obviously a hugely labor-intensive project. The resulting resolution is nothing less than dazzling—really a tribute to the potential of the 1080p spec and the low-light ability of a Canon 5d full-frame sensor. Stunning!
via Da Goat
November 29, 2010
Okay, I admit it: the prospect of spending an hour watching a crew of Telemarkers dropping their knees did not exactly fill my heart with glee. Skiing is a big tent, I understand, with plenty of room for people doing things any which way they choose, but as I inserted Television into my DVD player for the very first time, I felt not unlike I was about to wander into the wrong aisle at the adult book store (more…)
October 18, 2010
The Ski Channel film, The Story has its Southern California debut this Sunday, October 24, in the main auditorium at Mann's Chinese Theater in Hollywood. If you haven't seen a film at the Chinese Theater that's good enough reason on its own to go—it's a huge, historic auditorium from Hollywood's golden era. They don't make 'em like this anymore. As for the film itself, I haven't seen it, but early buzz is that it's a different kind of ski movie…and a big success. In addition to the film, The Ski Channel has arranged a gala star-studded red carpet event starting at 6 p.m.
September 25, 2010
I have to say Les Stroud has acquitted himself nicely. When I first saw his show Survivorman, he was wandering the canyons of Southern Utah, cold, hungry, and miserable, complaining about everything every step of the way until he announced, abruptly, that he'd had enough and was going home. Compared to That Other Survival Guy, and his show, Les seemed hopelessly lacking (more…)
September 15, 2009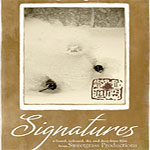 I knew next to nothing about 'Signatures' when I popped it into my dvd player. I've kind of burned out on ski flicks, so when Sweetgrass Productions sent me an email mentioning their film and tour, I told them to send me a copy figuring I'd never hear from them again. Surprisingly enough, they did send me a disk. Even more surprising: their film is stunning. (more…)