December 26, 2013
No snow for us this year, so we went for the traditional and festive Southern California bike ride. At least we've got the beach!

Merry Christmas and Happy Holidays to you and yours!
July 16, 2011
I've never heard it so quiet here. We live about 0.5 miles from the 405, and you don't realize how much background noise the freeway makes, constantly, 24 hours a day, until it's suddenly gone, and all there is in its place is silence. Complete and utter silence. Extraordinary.
July 11, 2011
Southern California travelers beware: at 7 p.m. Friday, July 15, the 405 freeway will close between I-10 and Highway 101 to allow a mad 53-hour rush demolition of the Mulholland Drive bridge in Sepulveda Pass. What does this mean, exactly?
No one really knows. If everyone heeds the warnings and avoids the closure area (and if the freeway successfully reopens as planned at 5 a.m. on July 18) perhaps nothing much at all will happen. Or perhaps we'll see a traffic FUBAR of truly epic proportions: Dogs and Cats sleeping together; Carmageddon. I say don't take the risk. If you possibly can, avoid any north-south travel across the L.A. basin on or near the affected dates. And obviously, if you live or commute in the Sepulveda Pass area, plan to hunker down for the weekend. The countdown has started…
December 26, 2009
Merry Christmas and Happy Holidays everyone! We're wrapping up an eventful trip to Northern Arizona which had us briefly facing sleeping in our car in a blizzard (I-40 was closed) but gave us a short window (the freeway reopened for an hour) to make it here safely and spend the holiday with family. Add in some snow and some very cold temperatures, and it's been a wonderful white Christmas for us (more…)
September 8, 2009
Santa Monica Pier celebrates its 100th anniversary tomorrow, September 9, 2009. The day will be packed with events, climaxing in a grand finale fireworks show at 8:50 p.m. There haven't been fireworks at Santa Monica Pier in nearly twenty years, so this is a special treat indeed. Be aware that the whole day is likely to be one big zoo (more…)
July 5, 2009
For those of you who didn't go see 4th of July fireworks, first of all, shame on you! But here's a video of the grand finale at Marina Del Rey I shot yesterday with my handicam. MDR puts on a great show every year. For a (relatively) small municipality, they sure know how to light up the sky. This is also one of the darkest skies in the LA Basin, so you don't get too much interference from city lights. Just be creative in your parking if you go, or you'll have a long haul home. Happy 4th of July!
February 9, 2008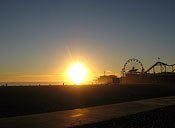 Seven days ago I watched the sun set from Mount San Antonio's west summit. Tonight, a much lower (and warmer!) perch: Santa Monica Beach, looking out toward the pier. With a bit of a heat spell picking up, temps have shot up, from 70's at the coast to 80's inland. Faced with such brutal weather, what is there to do but take the day off, hop on the bicycle, and cruise the strand along the beach? (more…)