January 20, 2008
No photos this time, but yesterday I climbed up West Baldy with a partner and then skied down to the hut. We started the day around 7:30 at Manker Flat, carrying skis on packs to the hut, for a nice 2000 vertical foot warm up hike. From the hut, we were able to skin up the rest of the way, zig-zagging up the south side of Baldy Bowl to the ridge and beyond (more…)
January 17, 2008
On January 13 at approximately 0800 hours, a renegade band of NorCalers drove to the Tuttle Creek drainage, spent the night, and then proceeded to ascend 14,027′ Mount Langley, in the Southern Sierra, the following morning.
These shameless individuals, traveling under aliases (and one using an alias for an alias) climbed and skied Langley's East Couloir. One of them reportedly vomited. Afterward, as if unsatisfied, they clearly expressed their intent to return and ski more of California's fourteeners.
For complete details on this shocking and sordid affair, please see the Teton Gravity Research Report.
January 17, 2008
It's not exactly cutting-edge Gonzo filmmaking, but this helmet-cam video (edited by the Telluride Daily Planet) is certainly a poignant reminder that sometimes those annoying "cliff" signs really do mean…Cliff.
Earlier this season two young skiers from Texas decided to duck under the rope at the extreme west end of Telluride's Gold Hill, tempted by the sight of untracked powder. Being members of the tech generation, they naturally decided to video themselves, which was no doubt of great value to the sheriff's department. Both were subsequently charged with Reckless Endangerment.
The video does run on the long side, at eight-plus minutes, but the moment when they break through the trees to discover their line is completely cliffed-out is priceless. Soon after that, they trigger an avalanche that knocks one of them over the cliff (this part of the mountain is closed, after all, not only because of the cliffs but also the extremely high avalanche danger).
Incredibly, neither kid was seriously injured, though their effort remains a potent entry for this year's Darwin Awards.
January 15, 2008
'What Los Angeles took a century ago — a 62-mile stretch of river here in the parched Owens Valley — it is now giving back.'
January 14, 2008
Tired of getting tongue-tied when the subject of Benito Mussolini comes up? Looking to impress your friends with your knowledge of the roots of Fascism? In the interest of public service, here's an amusing little history lesson.
January 14, 2008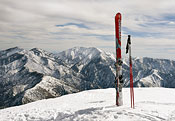 Here's a look at Mount Baldy's north face (Mt. San Antonio) as seen from the summit of Baden-Powell on Saturday. Compared to last year's bare rock, the sight of all this snow in the San Gabriels is surely cause for celebration, though in truth you're probably looking at about 2′ of coverage, so let's keep hoping for a few more big storms (more…)
January 11, 2008
"I am a lucky man," Hillary told an interviewer after the Everest climb. "I have had a dream and it has come true, and that is not a thing that happens often to men."
National Geographic has put together a Photo tribute to the life of Sir Edmund Hillary.
January 11, 2008
What do backcountry skiing and pc games have in common?
We're still working on that, though it seems fair to assume a great deal of crossover when it comes to the participants. In any case, I enjoy browsing the titles at the local BestBuy now and then, though as a rule I try desperately to avoid buying anything, as I rarely have a free month or two or three to spare.
Still, every now and then something irresistible comes along. And there's always the off season, or an injury break, or playing through the night 'till your brain turns to pudding. So into my Christmas stocking last December came BioShock
, a handsome new shooter that's been earning rave reviews from the critics.
My own impressions of the game are certainly more mixed (high marks: the artwork and Ayn Rand references). Rather than bore you with my own way-off-topic review, I've got to link to writer Yahtzee Croshaw's clever video review, which is funny enough to send you into fits of laughter whether or not you have any interest in playing the game. To top it off, I agree with his take. Is BioShock one of the Best Games of the Year? Sure. But that doesn't mean you can't also love to hate it.
January 11, 2008
Few goals captured the imagination like the first ascent of Mount Everest, at 29,035′ the highest point on Earth. Early attempts to climb Everest were turned back with a vehemence than soon had many believing the mountain could not be climbed. And then, in May of 1953, a New Zealander named Edmund Hillary and his Sherpa guide Tenzing Norgay became the first to stand atop Everest's summit (more…)
January 10, 2008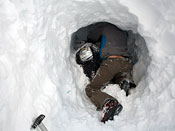 Photographer Todd Weselake was caught in an avalanche on January 7 while snowboarding the north ridge of Mt. Proctor in British Columbia, Canada.
Weselake was carried approximately 300 meters downslope, and buried two meters head-down (more…)
→ More SierraDescentsPrevious Posts ↵