August 23, 2008
We're back from the Pacific Crest Trail, having successfully hiked from Onion Valley to the Cottonwood Pass trailhead at Horseshoe Meadows—roughly 60 miles through the hidden interior of the Sierra Nevada. I've got a TON of stuff to post on this hike, including hundreds of photos, a gaggle of new gear reviews, and many, many lessons learned from tackling my first 60 mile thru-hike (more…)
August 14, 2008
Andrew McLean has a new blog online: straightchuter.com, filled with an abundance of McLean's ski mountaineering tips and techniques.
As content goes, Straightchuter is lean and focused: you get tips and gear and more gear from McLean (author of The Chuting Gallery). Much of McLean's skiing and mountaineering adventures take place at a level well beyond the mere enthusiast, but you'll find invaluable information regardless of how hardcore your outdoor aspirations are. Check it out!
See Also:
SierraDescents Interview: Andrew McLean
August 9, 2008
Could any other city in the world have staged an Olympics opening ceremony to match the scale and spectacle of Beijing's debut Friday?
I doubt it. My jaw kept dropping as I watched what will surely be remembered as one of the most awe-inspiring opening ceremonies in Olympics history.
Any one of the many set pieces would have been the centerpiece of any other games. But ceremony director Zhang Yimou (China's celebrated film director) delivered one ground-breaking moment after another, flowing easily from symbolic imagery to sublime artistry on a scale that Olympic audiences have never before seen (more…)
August 7, 2008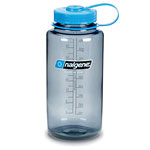 Perhaps by now you've heard the radio spot on KFI AM 640: A concerned female voice warns consumers: 'Soon, many common everyday products could disappear from grocery store shelves all across California'. What's the threat, you ask? Those dastardly Sacramento Politicians are trying to ban BPA—a chemical that has been safely used for 50 years (the ad assures) in plastic products like reusable water and baby bottles (more…)
August 5, 2008
On August 1, 2008, Hermosa Beach climber Nicholas Rice awoke after a freezing night at Camp IV and made his way to just below the "Bottleneck". Rice, 23, was attempting to climb K2, the world's second-highest mountain, widely considered one of the world's most difficult summit (and one of the most deadly) (more…)