October 31, 2008
Officially, Marmot's PreCip Pants are listed as rainwear, but that hasn't stopped them for becoming one of my favorite hard shell pants for all-around use. I wanted a lightweight waterproof/breathable shell pant suitable for fair-weather summit assaults and spring skiing. The full-zip PreCip pant seemed ideal, though I was concerned about its durability. Still, at this price point (more…)
October 31, 2008
REI Santa Monica has a monthly offering of free courses and clinics (and some fee-based programs as well). On 11/12 there's a free Snow Camping clinic which sounds interesting. I haven't attended one of these myself, but I'd bet you'd get at least a few useful tidbits of info.
October 29, 2008
What better way is there to remind yourself you're a year older than to go check out the latest Teton Gravity Research Film? Under the Influence features this season's crop of attractive young hipsters doing all those crazy things on skis and snowboards you used to imagine you could do—set, of course, to a rousing rebellious soundtrack (more…)
October 23, 2008
The Ski Mountaineer's Section of the Sierra Club's Angeles Chapter is holding its annual potluck get together this Saturday, October 25th at 5 p.m.
If you've never heard of the SMS, it was founded way back in 1934(!) — compelling evidence that Los Angeles and the Southern California mountains have a rich tradition of backcountry sking. The SMS remains active today (though perhaps not so much as in its glory days), organizing regular meetings and ski trips into the local backcountry, as well as throughout the Sierra (more…)
October 19, 2008
The Goat has the report.
(I'm holding out for a Lightsaber.)
October 16, 2008
Blame it on Chamonix—exposure to the big mountains of the French Alps made a big impression on me. I bought a Charlet-Moser axe and crampons, intending to incorporate the tools in my backcountry skiing when I got home. That axe and crampons stayed in the closet until our local ski area, the Arizona Snow Bowl, closed for the season (more…)
October 10, 2008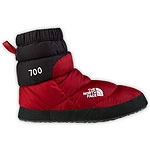 Really the big disadvantage with these is all the taunting you'll have to endure from your friends. If you can take it, however, the North Face's 700-fill down NSE Tent Bootie offers several tempting advantages. For a long time, I've struggled with the issue of what to wear around camp while ski mountaineering. Basically, you've got to get your ski boots off so you can dry out the liners and the shells (more…)
October 5, 2008
Mammoth Mountain reports a few inches of snow over the weekend. Gloomy skies dominated the Southland yesterday as the front passed through, bringing snow to the Sierra and possibly a dusting on the local mountains as well. Winter's coming—and I'm ready for it.

October 3, 2008
I got an email the other day from a Sierra mountaineer who was wondering what the pros and cons were of getting a down sleeping bag with a GoreTex Shell versus microfiber. GoreTex, of course, is the famous waterproof-breathable membrane that dominates the outdoor clothing industry. Microfiber, or its relatives, refers to the standard nylon or polyester sleeping bag exterior (more…)
October 3, 2008
The Los Angeles Times is reporting Steve Fossett's plane has been found in the mountains near Mammoth Lakes, California (more…)