January 27, 2010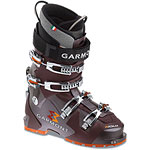 Online at last are all of my boot reviews for the not-exactly-annual SierraDescents Alpine Touring Ski Boot Roundup. The majority of these boots were provided as loaners by the manufacturers—thank you! I must note, however, that after the thrill of seeing so many new pairs of boots sitting in my living room wore off, actually skiing and writing about each of them proved to be a lot of work (more…)
January 25, 2010
Driving across the L.A. Basin on Saturday was like being transported to a new and wintery world. Snow levels were down around the 3000′ mark across Southern California, putting snow atop nearly all the foothill ranges, and coating the major ranges in vast sheets of gleaming white. I confess I actually felt a bit of anxiety looking at it (more…)
January 21, 2010
One of the questions that occurred to me while taking an AIARE Level I avalanche class this past weekend was, "What took so long?" I actually think that's an intriguing enough question to warrant some attention. Why was I so reluctant to take an avalanche class? I've certainly been interested in avalanches for some time—and I've especially been interested in avoiding them (more…)
January 19, 2010
Just got back last night—drive home from June Lake was very challenging. I'll be writing quite a bit over the next month about my Avalanche class experience. For now, let me say I'm really glad I did it. Did the class make me an expert on avalanches? Absolutely not. But I did learn a great deal, and just as importantly, I got motivated to keep learning.
Obviously the big news right now in the skiing world is the storm cycle. Whether or not this is a classic El Nino pattern I'll leave to the experts. Suffice to say I've seen potential rainfall totals (for the combined systems) estimated in the 8-20″ range (that's rain, not snow!), meaning we're going to be seeing a wide range of impacts, some good, some not so good. Sierra snowfall totals should be in the 6-12 foot range, which is massive. Local mountain snowfall is harder to call, as many areas will see rain mixed with snow, making the totals misleadingly low. Still, Mount Baldy is reporting 7-16″ of new snow this morning.
It should go without saying that only the most experienced winter mountaineers should even consider going out into the backcountry this week, and even they are probably best advised to stay home. Even those thinking about heading to the mountains for inbounds skiing should beware potential road closures, mudslides, bridges destroyed, traffic accidents, etc. Whatever you do, be conservative. As I was reminded just last night, it's not a good feeling when you know you're right on the edge of spending an unplanned night in your car (or worse) in a raging blizzard.
January 11, 2010
This coming weekend I'll be up north taking my first-ever avalanche course, an AIARE Level I offered by Sierra Mountain Guides. While I've probably picked up a good deal level I and higher info over the years, there are a lot of holes in my knowledge. I also thought it would be valuable to write about the experience of taking the course, which might inspire others to improve their own avalanche education. I must admit I've had a lot of reluctance to do this—more on that later. For now, I'll say that many of you probably have exactly the same concerns about taking an avy course as I do.
Locally, I skied inbounds again this past weekend to continue my never-ending boot tests. I should have reviews up for the Radium and Helium soon. The Spirit 4 Review is here. Conditions in the backcountry look depressingly similar to par for the past few years. You'll need a little creativity and a lot of effort to find snow in the San Gabriels. Baldy Bowl looked pretty burnt. The north face has good coverage, though I assume most of it is ice (which may be true of other aspects as well. That's it for now.
January 5, 2010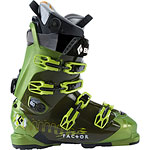 It's impossible for me to assess Black Diamond's new Factor ski boot without considering it in context: the Factor represents the flagship achievement of Black Diamond's audacious (some might say crazy) 4-year project to turn itself into a major Alpine Touring and Telemark ski boot manufacturer. Ski boots, please note, are really, really hard to make (more…