April 29, 2011
Sobering and heartbreaking news: Powder Magazine is reporting the deaths of two Sierra skiers, Kip Garre and Allison Kreutzen, whose bodies were found in a pile of avalanche debris yesterday morning near Split Mountain. According to rescuers, it appears the pair were climbing Split's east couloir with the intention of skiing it when a large avalanche began about 2/3 of the way up the couloir, sweeping them down. My deepest condolences to Kip and Allison's friends and family.
via Earn Your Turns
April 28, 2011
Sony's interchangeable-lens NEX-5 is both an oddly compelling and an oddly vexing digital camera. Despite its flaws, however, once you start using an NEX-5 it's hard to stop. I have a vision of what cameras of the future are going to look like: they're going to be small. They're going to be light. And they're going to deliver stunning resolution. Sony's NEX-5 offers us an early, if imperfect, preview (more…)
April 22, 2011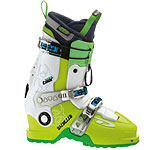 Much like its singularly-unique lead designer, Glen Plake, Dalbello's Virus Tour ID ski boot is both an innovative and unusual inhabitant of the Alpine Touring universe. The Virus's patented 'Bio-Stride' tongue adds an additional point of articulation to the cuff, resulting in dramatically enhanced range and ease of motion. When a clasp is released, the tongue essentially has a second hinge (more…)
April 19, 2011
Every time I visit the Whitney Portal area, I always look up at Thor Peak and wonder about skiing it—but I never do. This time, erratic coverage in the Eastern Sierra had us scrambling for a backup plan, and when I looked up at Thor Peak's east couloirs, they both looked pretty well filled in. The summit snowfield was smooth but much too soft (more…)
April 18, 2011
Scouted Highway 395 between Olancha and Independence this past weekend. As has been the case the past few years, snow coverage varies greatly depending (I assume) on wind effect history. It appears generally true, once again, that high altitude north faces have been blasted clean. This is not universally the case, but given how much snow fell over the course of the season, if you're expecting (more…)
April 15, 2011
Here's how it went down: my wife had my wallet. I needed lunch, so I broke into my emergency stash of credit cards, the ones I never use, activated one, and bought myself a hot dog. Then I waited for a billing statement that never came.
Eventually, I remembered using the card, and checked in to see why the statement was late. Of course, by then the account was overdue. According to the helpful bank representative, at some unknown point I'd switched that account to paperless statements. I mentioned I'd never gotten a statement, paper or otherwise…Would I like to pay the balance now, the rep inquired helpfully (more…)
April 13, 2011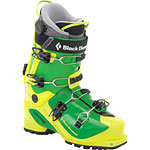 Some relationships define themselves immediately. Others refuse easy explanation. That's about where I find myself with Black Diamond's stubbornly-ambiguous Quadrant A/T ski boot. In terms of niche the Quadrant competes directly with Garmont's excellent Radium, seeking to offer high performance at a tour-competitive weight. It's easy to quantify the Quadrant's weight—seven pounds, four ounces per pair (more…)
April 12, 2011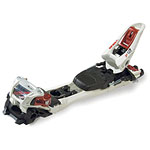 Visions of an Alpine Touring binding from a heavyweight Alpine manufacturer like Marker have been dancing in the dreams of A/T skiers for many years now—mine included. Those dreams seemed to come true with the 2008 release of Marker's touring-capable Duke, but spontaneous performances of the Hallelujah Chorus proved a little premature (more…)
April 9, 2011
For those of you who browse the links to the right here on the home page, I've added a section called 'Backcountry Resources' where I'm listing some of the resources I use to plan trips. Generally these include forums, live web cams, weather reports, and such. If you've got a resource that you think ought to be on the list, post it here as a comment and I'll check it out. Thanks!
April 8, 2011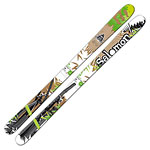 Salomon's Shogun moves away (slightly) from the powder specialization of big-brother Czar toward a more classic all-mountain design, modernized with just a touch of rocker. Compared to the Czar, sidecut is deeper and turn radius is tighter. You'll notice this right away on groomed snow, as the Shogun brings a nice, traditional feel to your on-trail experience, with snappy quickness from edge to edge (more…)