December 30, 2008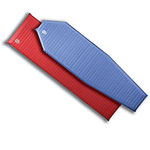 In its two-inch version, the Big Agnes Two Track self-inflating sleeping pad offers a very warm advertised r-value of 6.5. To put that number in perspective, Thermarest's equivalent winter pad, the ProLite Plus, is rated considerably lower, with an insulation value of 3.8. Exactly how objective those numbers are (and thus how valid the comparison) is open to debate, but it seems clear that the Big Agnes Two Track offers the highest practical (more…)
December 29, 2008
According to the Jackson Hole Daily, a skier was killed Saturday, December 27, at the Jackson Hole Mountain Resort by an in-bounds avalanche, making this the third in-bounds avalanche fatality of the 08-09 season. Statistically, in-bounds avalanches at ski resorts are extremely rare. Three such incidents at the start of this year's season can thus be viewed as either a dramatic anomaly…or perhaps an early warning of a disturbing new trend (more…)
December 27, 2008
What's this? A ski report on SierraDescents? Stop the Presses! Why, I didn't even know they did skiing on this site! I thought they just talked about sniffing tea cups and losing money in the stock market…Yes indeed, it's a real-live December ski report, in which I managed to get myself to the mountains and back without sustaining any recovery-harming setbacks. Victory on all fronts!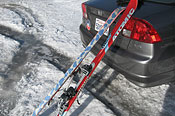 At Vincent Gap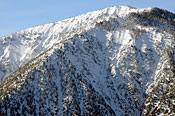 Baden-Powell's East Face
Skinning Up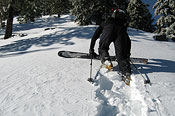 Earning It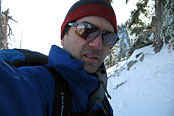 Skiing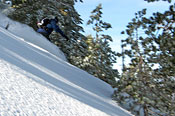 A Few Good Turns
Friend Bill and I drove up Highway 2 from Wrightwood to Vincent Gap for a little Baden-Powell action today. BP is one of those curious Southland Peaks that occasionally allows drive-up-to-snow backcountry skiing access, provided the road is open past Mountain High—and provided you arrive early enough to beat the traffic up to the ski area, which can be full-on SoCal nutty.
With the proximity of the recent storms, I was expecting good snow. Well, that didn't exactly happen. Seems some combination of rain, high winds, and ultra cold temps has produced one cranky snowpack, complete with rain crust, surface hoar, and hidden ice glazes. Sheesh! This wasn't exactly the easy cruise I was hoping for, bad back and all, but it sure felt good to get on snow after the very discouraging start to the ski season that I got four weeks ago in the doctor's office.
We found it extremely difficult to skin up: the crust was too icy to set an edge without ski crampons (both of us were without), and it was dusted with a very sugary thin coating of snow that only added to the frustrations. Take off the skis to climb on foot, and we punched right through the thin crust, into 3-4′ of unconsolidated powder that truly gave meaning to the phrase "earning it."
Bill and I got about 1800′ vertical up before we finally decided to call it a day. The climbing was brutal. Skiing down offered a few good turns, but all that icy-crusty action made things challenging, especially as I was trying to avoid doing anything foolish to my back. Still, just getting out there and getting my boots wet was very encouraging. Actually, what's hardest for me right now is driving, and putting on my socks and boots. Keep me upright and locked in, and I'm good to go.

I did take a few minutes to dig a very cursory snowpit at the apex of our climb, on what would be a due-north aspect around 8200′. The upper layer was a solid crust on top of 4 feet of cold, sugary snow. I kept my eyes out for thicker slabs but didn't see any. That said, we never saw any of the wind-affected parts of Baden-Powell, where things could be completely different. If a heavy accumulation arrived in the next few days, I would expect very unstable conditions on top of that icy, hoar-dusted crust—plus there is not much support underneath. All in all, I suppose these are fairly typical observations for a December snowpack in the Southland.
Another concern, I'm sorry to say, is going to be ice. Conditions are already slick enough to make exposed areas dangerous in the backcountry. You may recall last season's ice persisted for months, rendering whole aspects unskiable in certain parts of the range (ie, Ontario Peak). I sure hope we don't see a repeat this season. That's it for now. If you do venture out into the San Gabriels, watch out for that ice and be especially cautious if new snow arrives before the snowpack settles.
December 24, 2008
Merry Christmas and Happy Holidays to you! Looks like we'll be enjoying a white Christmas in the mountains this year. Heavy snows (18-36″) are forecast in the High Sierra, plus a very nice 2-3′ on the way in the San Gabriels. That's going to be more than enough snow to open up most of our favorite terrain from North to South (more…)
December 17, 2008
Well, it's been raining all day in the Basin, and our dubiously-accurate patio thermometer is now reading a very frosty 37° as of 5:33 p.m. Pacific (official West L.A. temp at Santa Monica Airport is 45°). All this cold rain is translating directly into snow in the High Country. Mount Baldy Ski Area now reports a 2-3′ base with chair 1 open all the way down to the parking lot, and snow to the Village. Not bad for one storm! (more…)
December 17, 2008
Well I'm shivering here in my SoCal apartment through another stormy day. These storms are COLD! Our questionably-accurate patio thermometer currently reads about 44° F (Weather.com says we're 50°). I'd guess that translates to a snow level in the 3500′ range, which means lots of cold, dry powder in the local mountains and of course the Sierra beyond (more…)
December 15, 2008
The Eastern Sierra Avalanche Center has issued its first Avalanche Advisory for the 08-09 season. And the verdict is…Insufficient Data. But it's a start!
(Sue says she should have some field observations up later this week)
December 15, 2008
Yes, it's a bona fide winter storm! We got heavy rain overnight here in the Southland, and it's still raining hard now. Looks like this is a cold storm. Mount Baldy says a foot of new snow overnight. Mammoth got 18 inches. Could it be that we're suddenly going to get a ton of snow this month now that I'm supposed to be resting?
December 12, 2008
Good news in the online backcountry media world: Backcountry Magazine and SierraBackcountry.org are in the process of making major updates to their sites. Backcountry Mag is already up and running, with an emphasis on facilitating user-provided content. You'll find it much easier to share your own stories, videos, and pix on the Backcountry Mag site (more…)
December 11, 2008
I've been contending with back pain for much of 2008, beginning with a severe cold last January that had me coughing and sneezing violently for about two weeks, which seemed to injure my back. Following that, I re-injured my back skiing about two months later. Throughout the year, my ability to rest and heal was limited, as I was constantly chasing my two-year-old (more…)