March 28, 2011
Back on the grid here after four fun-filled days at Snowbird, Utah. Weather really treated us well—it snowed every single day, but was kind enough to break yesterday for a dazzling dose of Wasatch powder. I wasn't planning on doing any work, but I ended up demoing a bunch of powder skis, and I learned a lot about what's out there. Not all rockered planks are created equal. More to come…
March 6, 2011
One of my never-ending quests is finding an appropriate place to ski with my four-year-old son in SoCal.
We drove up to Snow Valley today, motivated by distant memories I had of high-quality easy intermediate terrain. As it turns out, Snow Valley is offering $199 Season Passes, good for the remainder of this year and all of next season (more…)
March 3, 2011
In cased you missed it, Andrew McLean put up an interesting chute-skiing tutorial video on his site a few days ago. I recommend checking it out. What I really like about the video is that it shows what real ski mountaineering/steep skiing often looks like: you traverse in, feel things out, discover conditions aren't exactly what you expected, and wind up spending the majority of your "skiing" using whatever techniques and tricks best work to get you down in once piece.
While I find Big Mountain Movie Skiing™ just as thrilling as everyone else, real, human-powered skiing deep in the backcountry is often very, very different (more…)
February 23, 2011
Wolfgang Lert died in his San Francisco home on Feb 13, 2009 at the age of 91. He was one of the founders of SMS as well as a builder of the San Antonio Ski Hut. In 1936-37 he made a ski movie, "The Original Mugelhupf Movie" filmed on Mt.Baldy. This 23-minute video opens and closes with scenes of Wolfgang Lert skiing in 1997 (age 80) and 2001 (age 85). He introduces several old films, which are accompanied by music and narration. His first ski memories are from 1930 in Arosa , Switzerland , where he and his younger brother traveled for ski lessons. The film demonstrates equipment and techniques of the day. This is followed by scenes from Mt Rainier in 1933.
Darroch Crookes leads a group schussing above Paradise and demonstrates turns and tricks. Next comes Yosemite in 1935 with scenes of powder skiing, Count Felix Schaffgotsch touring, and Hannes Schroll demonstrating state-of-the-art parallel turns at Badger Pass. Lert was Schroll's first ski pupil in the U.S. The final part of this video is a ski chase filmed on Mt San Antonio (Mt. Baldy) above Los Angeles during the winter of 1936-37.
During the preparation for the Ski Hut's 70th Anniversary, Bahram Manahedgi contacted Wolfgang and received permission to sell DVD copies of his movie to raise money for a new roof which was completed in 2008.
To buy a copy of the "Mugelhupf" DVD send a check for $20.00 to:
Sierra Club-San Antonio Ski Hut
PO BOX 641145
Los Angeles, CA 90064
via Bahram Manahedgi
February 20, 2011
About a foot of new snow on the ground here in Flagstaff meant it was a mad-dash morning for a powder day at the Arizona Snowbowl. Those of you who sometimes wonder if you're crazy for climbing hours up mountains only to ski a few minutes back down, the answer is yes—but maybe only a little crazy (more…)
February 2, 2011
The SnowSports Industries America's SnowShow is the largest and "most concentrated" trade show in the snow sports industry. This year, The Ski Channel decided to hold their inagural film festival concurently with SIA at the Denver Convention Center, which is what got me to attend, as the festival included my short ski documentary, The Couloir to Nowhere (more…)
January 21, 2011
One of the more common questions I get is from people who have just moved to Southern California, and, having discovered there is actually backcountry skiing in the area, are wondering how to find partners to ski with (as well as where to go). There are a few possibilities I can recommend. And if you know of anything I haven't thought of, please feel free to share it in comments below (more…)
January 14, 2011
I've been holding off announcing this until I was sure it was official, and now it is: my documentary, The Couloir to Nowhere, will be screening as part of the Ski Channel Film Festival at SIA Denver on Saturday, January 29, at 5pm. I'm planning on attending the showing, and Dave The Man Braun should be there as well (more…)
January 7, 2011
One of the niftier gifts I got this past Christmas was a Garmin Nuvi. But I wasn't the least bit interested in sticking it in my car to get directions—no, I wanted instead to use its GPS-derived peak speed feature instead.
The Nuvis give you a continuous (and pretty impressively accurate) speedometer that you can use to measure yourself doing just about anything. Such as, settling once and for all a long-running discussion between my brother and me, both of us former Alpine racers, which is, just how fast do we ski, exactly? (more…)
January 1, 2011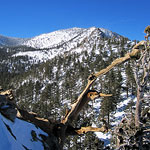 Back to San Jacinto I went for the last skiing day of 2010, this time with the man formerly known as the man formerly known as Bullet (ie, once again Bullet. Or Bill–Just don't make him angry…) Our plan was to climb up Cornell Peak and ski whatever might be skiable. As usual, however, thanks to my infallible sense of direction in desert ranges, we ended up climbing the wrong peak (more…)
→ More SierraDescentsPrevious Posts ↵