July 29, 2008
I was browsing the message boards at thebackcountry.net when I happened to see a new "North Peak" post. I clicked on it, thinking someone had posted a climbing trip report (North Peak's North Couloir is a classic Sierra Ice Climb in summer).
Surprise: this wasn't a climbing TR: it was a Sierra ski report—in July!
The photos are courtesy of SLT Joe, who skied not only North Peak's right-hand couloir but also the notorious left couloir on 7/5.
Congrats to SLT Joe and his crew for getting out there and nabbing such a cool descent! I've got to award double-secret bonus points for scoring the left couloir (from the chockstone), which is I believe even steeper than the right-hand couloir (itself no slouch). I never would have guessed North Peak's couloirs were skiable this late in the year.
Seeing these shots of North Peak rekindled fond memories of my own ski descent of the North Couloir. If you haven't ski toured in the Yosemite area, I can't recommend it highly enough. The skiing and scenery are spectacular.
As for North Peak, SLT Joe's photos really capture how steep this ski descent actually is. The right-hand couloir is absolutely one of the Sierra's spicier shots—reminiscent of an elevator shaft when you're standing at the top staring down. As for the left couloir, check out the entire set of photos on Joe's site, SierraFlow.com for more views of this eye-popping line.
July 27, 2008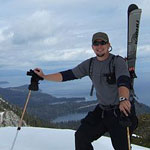 One of the blogs I enjoy reading on a regular basis is SierraJournal.com, run by Matthew DiPietro, a Bay Area tech and communications specialist.
Matt seems to have a knack for finding interesting and news-worthy backcountry tidbits to write about, and does a far better job staying on topic than I ever could (more…)
July 22, 2008
The SierraJournal (formerly Sierra-Alpinist.com) has a short write-up on the death of Exum Mountain Guides employee George Gardner, 58, who died Saturday, July 19, while free soloing the Grand Teton's Lower Exum Ridge (more…)
July 19, 2008
I envy those who went to see Wall-e without knowing anything in advance about the film.
By now, word has spread about Disney/Pixar's new animated picture.
You've probably heard at least one critic claim the film is brilliant.
You're probably heard at least one so-called "Conservative" voice claim the film represents the worst of Liberal eco-brainwashing attempts, with special bonus condemnation for targeting children (more on this to come).
I will tell you, in my humble opinion, that "Wall-e" is a masterpiece. And if I could recommend one thing more than any other, it would be that you stop reading now, don't read anything else about the film, and go see it. Then come back, and we'll try to talk about all the ways in which this remarkable movie surprised us (more…)
July 18, 2008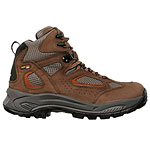 At two pounds, nine ounces per pair, the Vasque Breeze GTX qualifies as a light hiking boot—but don't think that means they're not durable. This is the boot I used to hike and ski Mt. Williamson's West Horn, a tour-de-force of gear-wrecking savagery involving 2500 vertical feet of dry off-trail scrambling (with skis and overnight gear on the back) plus class 4ish rock climbing at 14,000 feet (more…)
July 16, 2008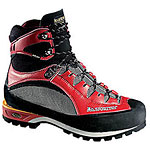 La Sportiva's Trango S EVO GTX Alpine Mountaineering boot delivers a mighty punch of versatility and performance. What truly makes the Trango S EVO special, however, is its outstanding out-of-the-box fit. The Trango EVO GTX seems to fit like a running shoe when you first try it on. Even without a break-in period, I found the boot remarkably comfortable—and after a full workout of trail hiking (more…)
July 16, 2008
More storm news from the Eastern Sierra. Looks like last year's fires were a factor in this. The mudslide occurred over fire-blackened land.
July 15, 2008
Sounds like it was a wild weekend in the Whitney Portal region, with heavy storms closing the portal road (due to mudslides) and even Highway 395 (which remains closed at Independence – detour available). Posters on the Whitney Portal Store Forums have a thread going which talks about the conditions. Sounds like a lot of people got blasted by intense thunderstorms (more…)
July 11, 2008
Black Diamond calls the Sabretooth their most versatile crampon, suitable for travel from Denali to Ouray and everywhere in between. The Sabretooth is an aggressive 12-point steel crampon capable of getting you across a glacier and up a mixed route. While the Sabretooth is a climbing crampon first and foremost, it is also a competent performer for glacier crossings or traversing across a snowfield (more…)
July 11, 2008
When I skied Lone Pine Peak's East Couloir this spring, I didn't get a chance to take any scouting photos of the Northeast Face in its entirety. Here's a recent shot of the face from near Independence, showing the entire face and drainage right down to the desert—all 6500 vertical feet of it. Looking at this view, it's easy to see why I doubted the route would be continuous to the summit (more…)