April 29, 2009
A female climber was killed Saturday night or early Sunday morning while descending the Mountaineer's Route with a group of several others on Mount Whitney. At this time there seems to be an almost total lack of confirmed information about the incident. Sketchy reports from persons in the area were briefly available on the Whitney Portal Store message board. Unfortunately, due to the forum owner's policy regarding fatal accidents, that thread has been deleted (more…)
April 19, 2009
The plan was simple: Tyndall in a day. But as I made the pitch to my climbing partners, one by one they found various reasons to be elsewhere. And who could blame them? To get to 14,018′ Mount Tyndall, you must first contend with one of the worst approaches in the entire Sierra—the Shepherd Pass trail (more…)
April 14, 2009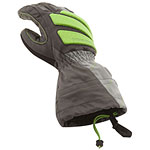 These past few days I've been working on a flurry of end-of-season gear reviews. First up: gloves. Swany was kind enough to send a pair of X-Change II's a few weeks ago. Thanks to this year's very strange Spring weather, we got to try these in a huge range of temperatures, from balmy SoCal 60's to frigid single-digits and 60mph winds below Palmyra Peak (more…)
April 6, 2009
Back home now in sunny Southern California. Here's a look at Mt. San Antonio's north face as seen yesterday through the plane window. I was hoping to catch a peek at San Jacinto's north face, but our flight path took us way north—too far to see anything. Looks like Baldy's north face still has plenty of snow for skiing (more…)
April 3, 2009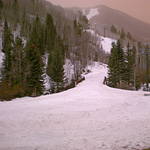 Telluride Dust Storm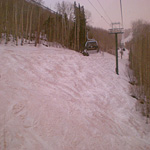 Red Snow
Well, instead of snow, so far we're just getting more dust. As the afternoon progressed, the sky grew more and more pink, and the snow started to look as if God had sprinkled cayenne pepper everywhere.
What a mess!
Adding to the atmosphere, today is Telluride's end-of-season celebration downtown, so a live band is playing while costumed revelers party down.
All that's missing to complete this surreal image are some radiation-stunted mutants trolling about in the shadows, and Mel Gibson leading a fuel convoy at breakneck speeds down the highway.
It's hard not to look at this as some sort of bleak preview of future scenes to come. "It looks like a movie," my Mom said as we rode up the Gondola. "And not a movie I want to see." (more…)
April 3, 2009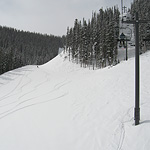 What a funny trip this has been. I really agonized over whether or not to go, and finally decided at the last minute, thinking I'd enjoy some late-spring skiing. >And then this happens…day after day of fresh snow. More snow overnight. Chair 9 was brilliant this morning: fresh tracks and even a peek of sunshine to put the sparkles on everything (more…)
April 1, 2009
Literally—more new snow today; more powder skiing. Ordinarily these are the kinds of days that would have kept my dad off the mountain, but he got a new pair of Volkl Mantras, and I have to say, the skis have made a huge difference. He not only skied today…he had fun. I'm going to have to put up a review of those Mantras (more…)