May 29, 2009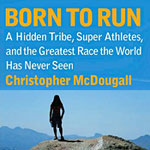 Christopher McDougall's Born to Run arrived on my desk with impeccable timing. I'd just finished a mammoth 19-hour climb and ski of California's Mount Tyndall, and while nursing my wounds I began asking hard questions about my physical limits. If your experience is anything like mine, you've been conditioned over your entire life to believe that human beings were not meant to run (more…)
May 22, 2009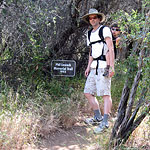 Los Angeles has a wealth of good metro-area hikes, though finding them can be challenging. One of my favorites is the Phil Leacock Memorial Trail, which connects Pacific Palisades to the Topanga State Park trail network. For the urban hiker, the Leacock Trail offers tremendous bang for the buck. You get a sharp climb right from the start, great city and ocean views, and a quick loop (about 1.5 miles) back to the car (more…)
May 19, 2009
I've got to hand it to the folks who manage the San Antonio Ski Hut: not only have they rebranded work as fun, but they actually get you to pay them while you do it. Tom Sawyer would be proud.
Yes, it's time again for the ambiguously-annual San Antonio Ski Hut Work "Party", in which you the willing participant get to enjoy the privilege of carrying heavy awkward objects back and forth up the Ski Hut Trail during your weekend break. Festivities occur on June 13 and 14, and you must RSVP no later than May 30 (reservations are required).
You can choose to work Saturday, Sunday, or both. Fees vary from $10-20. For your efforts, you'll be treated to lunch, happy hour, and dinner (for those working both days). Note that work party participants get the inside track on becoming Hut hosts, as well as contributing to a good cause and maybe even having a little bit of fun. For more info, see the San Antonio Ski Hut website.
May 9, 2009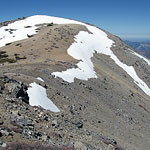 West Baldy – Summit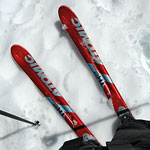 Skis on Summit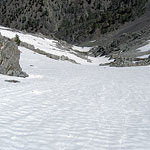 Snow Appears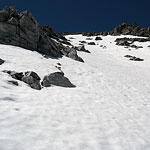 Looking Up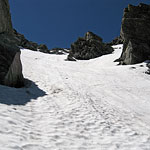 In the Pinch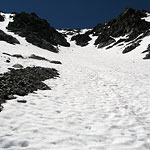 Way Down Low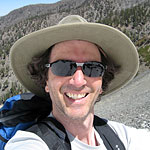 1500′ vertical to go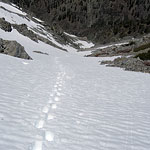 Climbing back Up
Back at the Car
Coming off my Tyndall adventure, I thought it would be nice to do an easy tour this weekend…so I decided to ski Mount Baldy's north face.
Okay, maybe my difficulty scale got thrown a little out of whack on Shepherd Pass, but the advantage of doing something hard right after doing something really, really hard is, the hard thing seems a lot easier.
That's the theory, at least.
Complicating matters today was the fact that I really didn't know how much snow was left on Mount Baldy. Basically, all aspects of the mountain except north are bare now—bone dry, no skiing allowed.
That meant I'd be climbing all 3850′ to Mount Baldy's summit (from the Manker Flat trailhead) with skis and boots on my back. And doing the same to get back down…not including climbing back up the north face.
Okay, maybe this one qualifies as really hard, too.
I was in the mood to push today despite the heat, so I made Mount Baldy's summit around 10:20 a.m., having drawn many curious stares and comments from all the other hikers. Oddly enough, I was apparently the only one with skis on the mountain today. Go figure.
Atop Baldy, my first glance down the north face looked pretty bleak. The best snow—the only snow, really—was a finger stretching down West Baldy's north face. So, I kept on hiking to West Baldy, and geared up for a ski descent.
When I got up West Baldy, I saw that the snow finger from the summit connected to a fine snow field in a gully leading a long way down. Huzzah! Off I went. Snow up top was alarmingly mushy-soft, making me think I'd need to abort, but hardened up nicely in the gully, making for real-live good skiing.
Skiing Baldy's north face, it must be said, is like playing a high stakes game of chicken. How far down do you dare go? There's no way out except to climb back to the summit, so whatever elevation you give, you're gonna have to fight to get it back.
Apparently the thought of solo-post holing while getting cooked by the sun wasn't enough to discourage me today. I rode the snow all the way down, dropping at least 1500 vertical feet.
Let me just say if I wasn't tuned up from Tyndall this would have been suicide. But, I felt strong on the climb back up. Took me an hour and a half to get back to the summit ridge.
I was briefly tempted by all that smooth corn snow to try another lap, but luckily sanity prevailed—especially since I had that 3850′ back to the car still on the agenda.
Back up top I took my ski boots off, switched back to hiking boots, and loaded up the backpack. After a snack and some water, it was time to close out the trip.
I buzzed down the trail, passing many, many more curious onlookers.
What was I, the trail freak show today? I did my best to be polite, though I did secretly try to come up with a variety of snappy comebacks.
By now, the work and the heat was really getting to be a grind. Skis and boots are heavy on the back, any way you look at it. That helped motivate me to keep pushing the pace, even though the heat was just insufferable.
Special note to San Gabriel Mountains hikers in summer: get a very early start.
As worked as I felt when I finally got back to the car, I have to say I really enjoyed this one. I skied about as far down Baldy's north face as I've ever dared to go, and I made it back out in one piece, more or less.
Snow quality and texture was way better than I had any right to expect. Still, I think this was pretty close to the bitter end as far a skiing in the Southland goes.
Forecast temps today were for highs on the summit in the 70′s, with lows only dropping into the 50′s. Not nearly cold enough to keep the snow going for long. Curiously, I never felt worried about wet slides, despite the lack of a hard overnight freeze. The snow was almost perfectly consolidated, and of good firmness. Never saw any significant rollers or even mini-sluffs.
This was sure a strange season in the local mountains, but I have to say, it had its moments. And for me, it definitely ends on a high note.
May 5, 2009
On April 20, Don Sutton and Scott Bornheimer attempted to climb and ski across the High Sierra Route's 50+ miles in a single day. They ended up taking two days to do the crossing, which is probably good news for us, because it means they got to video more of the trip in daylight:
Crossing the Sierra on skis (or on foot, for that matter) has been a dream of mine for many seasons. Seeing this video just stirs the soul. I can't believe how beautiful the range looks when they get to the interior—and it just keeps going on and on. This was clearly the trip of a lifetime. It's given me a real kick in the pants to put together my own crossing. Congrats you guys!
May 2, 2009
The plan was simple: climb and ski Mount Tyndall in a single day. There were good reasons to try—and good reasons not. But it is the lot of the occasionally ambitious ski mountaineer to want to do something significant every now and then, so I drove to the Shepherd Pass trailhead and started climbing at midnight. Ten hours later I turned back, crushed by the scale of the effort. Now, exactly one week later, I am back (more…)