December 28, 2009
Back home in California now and watching these upcoming storms to see what develops. Here's video of my day skiing the Arizona Snowbowl in Flagstaff, Arizona—the mountain, for all practical purposes, where I grew up and learned to ski. I still love skiing the Snowbowl, and conditions were excellent, if a bit chilly. The day started out around six degrees F.
This video probably isn't exactly scintillating, I know, but I'm continuing to play around with my two HD cams and trying to figure out how to cut together good ski footage. So, these are kind of little training flicks for me. At some point I'll probably do reviews of all the video gear I'm using, including my much hated but also indefensible indispensable Sony Vegas software. This time I was skiing with my Canon Vixia HF200. Image quality remains stunning with the 1080i Vixia, though it unfortunately only records interlaced video, which means we lose resolution when we create a progressive mp4 for the internet (this clip is mixed down to 720p).
The blue-jacketed skier is my brother, employing his typical bullish form. Red jacket is my dad. I asked him to get some shots of me skiing, but he ended up filming the sky for five minutes. Just a reminder that it's always a good idea to befriend a photographer.

As you see above, I was actually doing some hand-held shots to emulate helmet cam footage. This was of mixed success. Following my dad and snowplowing slowly, for example, you can see that I'm doing a reasonably good job of getting a stable image. But as soon as I point the boards downhill and start turning, the picture jumps around. Exposure all in all is pretty good here. I am using Vegas to tweak the levels in real time, which is a slow process, but that way the snow stays white rather than gray when it dominates the frame. I may try setting a fixed exposure next time to see if I can get away with that approach. Anyhow, comments are welcome on all this.
December 26, 2009
Merry Christmas and Happy Holidays everyone! We're wrapping up an eventful trip to Northern Arizona which had us briefly facing sleeping in our car in a blizzard (I-40 was closed) but gave us a short window (the freeway reopened for an hour) to make it here safely and spend the holiday with family. Add in some snow and some very cold temperatures, and it's been a wonderful white Christmas for us.
This time of year I am always profoundly thankful for the many gifts in my life, good friends and dear family chief among them. I think also of those who serve in our armed forces, and the tremendous sacrifice they make on our behalf. I wish everyone a very happy holiday season, and for those away from home, a speed and safe return. As for the New Year, I'm looking forward to a busy 2010—especially winter. It's time to start getting out there!
Happy holidays!
December 19, 2009
It's boot review season here at Sierra Descents—I'm currently trying out pairs of Garmont's Radium and Helium boots, Scarpa's Spirit 4, and the much-anticipated Black Diamond Factor. Along for comparison were my trusty Lange L10′s and Garmont Mega Rides. I should have reviews up on all of them after the holidays. In the meantime, I had fun and thoroughly wore myself out mixing and matching boots inbounds today at Mountain High East ski resort. Video shows me on one Lange and one Factor going down Gold Rush, shot via the Contour 720p helmet cam. Tricky thing with the Contour is mounting the damn thing. Today I was using the goggle strap attachment, which is why the video is both crooked (listing right) and so jiggly. Maybe the goggle attachment works better with a helmet? Ah well, I'll keep working at it…
December 13, 2009
As Forest Gump might say, Mount Baldy Ski Area is like a box of chocolates: you never know what you're going to get. Made it up today to the ski area for some early-season inbounds turns—or so I hoped. Turns out yesterday's storm rained ruthlessly on the mountain even above the notch, coating everything with ice, ice, ice, including the chairlifts. Snowpack other than ice could hardly be called ample. There was quite a lot of bare rock, which blended nicely with the ice motif. I amused myself by playing around with my Canon Vixia HF200 (hence the HD footage) and testing out some new gear.
As the Ski Patrol worked to clear the lifts and get something—anything—open, and crowds of patient skiers and boarders milled aimlessly about the lodge, I took matters in my own hands and started hiking up. Got about 3/4 of the way up Thunder Mountain when a ski patrol was kind enough to tell me the lift had just opened. I topped out just to be thorough, and then skied a few runs. In between sheets of ice there were patches of some very nice and fluffy snow—fresh from last night, when the snow level dropped a bit. To be honest the patrol and ski area crew were working hard to shape things up today, including making a very focused grooming effort. Call me crazy, but there seems to be a spark of life about Mt. Baldy's employees this year. Maybe they're flush with cash after selling all those $49.00 ski passes. Or maybe it's the promise of an El Nino year.
Despite the ice, it felt good to get up in the mountains and get on some snow. When Mt. Baldy's (aka Mount San Antonio's) 10,000′ summit popped into view, I saw what looked like very impressive coverage from about 9500′ on up. For those of you thinking about hiking and/or skiing Baldy Bowl from the Manker Flat trailhead, be especially wary of ice. It's going to be a skating rink out there for a while, I fear. Manker Flat, by the way, was just about the start of the snow level. There is probably no skiing or even skinning possibilities below, say, the elevation of the Ski Hut. For now, backcountry skiers may want to look to the San Bernardino or San Jacinto Mts.
December 11, 2009
That's the thought on my mind this morning. Another nice fat storm blowing in off the Pacific, with rain forecast locally into Sunday. Mt Baldy Ski is conspicuously silent on new accumulations. They're saying snow levels are expected to drop, which may be code for, "It's raining." Mountain High says 2″ new snow—but they're opening up the East resort, which is a really good sign this early in the year. Old reliable Mammoth Mountain says 4″ new snow on a 3-6′ base. Hmm…not much happening out of this storm as yet.
As I see it, we've been way under average for snowfall in California since the '05/'06 winter, which was (I believe) an El Nino year. That was coincidentally the year I officially started up sierradescents, which was frustrating, as we got off with a bang but have bemoaned dry winters ever since. There've been opportunities over the years of course, but there are also a lot of lines in the Sierra that just need a lot of snow to open up. Let's face it, looking back over some of my trip reports, someone unfamiliar with the Sierra might think that conditions like I skied on Mount LeConte or Birch Mountain or Mount Tyndall are the norm out here.
Really I suppose the most important reason to hope for a big winter is to quash that terrible shame I feel everytime I read those damned Coloradans whooping about another unusually-stable deep December snowpack, or fantastic powder skiing in June. It's abnormal, I tell you. Let's hope this is the year that harmony and balance are restored to the Universe—and we get ridiculous amounts of snow!
December 8, 2009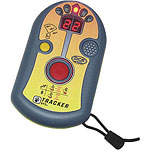 It's finally here: the moment you've all been waiting for, the 2nd (or it is 3rd?) annual official top-secret 2009 SierraDescents Christmas gift recommendation list! Hooray! Hooray! Okay, I've been thinking, and I realize there's a problem with this whole operation. My recommendations are really a list of things that I want, rather than (more…)
December 7, 2009
Raindrops on concrete here in the basin today. A very cold storm is working its way in, with snow levels currently down around 4000 feet in the local mountains. Looks like my $49.00 pseudo-season pass for Mt. Baldy is going to pay off after all! Speaking of passes, Mountain High is offering a $349.00 no-restriction season pass, but that deal may be ending today. Tempting—I like Mt. High East's beginner chair (not always running) as one of the best places locally to ski with really little kids.
Mammoth says 6″ of new snow, with an expected 20-30″ on the way. That should be enough to get the Eastern Sierra open for business. Expect a more modest but still impressive 13-17″ of snow in the San Gabriel Mountains, with more to come later this week. No advisories yet from the Eastern Sierra Avalanche Center. Their website is still showing the November announcement saying they're 'in the process' of hiring a forecaster. Hope they get their act in gear soon…
December 3, 2009
The FTC has enacted new regulations which impact websites and bloggers who publish gear reviews. In particular, the FTC now requires disclosure of any relationship between advertisers and publishers which might not be obvious to visitors.
SierraDescents is affected by these regulations (practically every website is). At first, I was annoyed by these new rules, which will mean a bit of work on my end for compliance. But, as I've had time to think things over, I'm starting to believe the rules are for the better. Ironically it was an experience I had recently looking for objective reviews of a new dental product that crystalized my opinion. I realize that a great many reviews on the 'net are little more than paid advertisements masquerading as editorial content. If the FTC rules help clean up the trash, I'm all for it. As for my disclosures, here goes:
SierraDescents gets gear for review in several ways. The first and easiest is I just buy it from REI or A16 or Amazon or whoever. I pay using my own (aka my wife's) money, and I don't get any special treatment or discount. In the FTC's eyes, no hidden relationship exists, and no disclosure is necessary. Scenario 2 is that I occasionally get gear at a discount. This includes Professional Pricing accounts from gear manufacturers, and courtesy discounts from merchants who advertise on my site. If you're curious, these discounts typically run around 35% off full retail: good but not great. The FTC hasn't really issued specific guidance in this 'discount' case. Are we supposed to disclose it or not? Probably, given that there is a relationship in place.
SierraDescents also writes letters, letters, letters to gear manufacturers begging for review samples. Most of these go unanswered (TNF, I'm talking about you!), but occasionally companies agree to send gear free of cost. The downside is that they usually want their samples back—and the brutes often even make me pay return shipping! But…sometimes, they let me keep things for free. Or I forget to send them back (sorry, Cascade Designs!). I've found that I do feel the temptation to be a little nicer to companies who send me things for free, but I am also fairly crusty by nature, and I always take my job as an objective critic very seriously.
To comply with the new FTC regulations, as I add new product reviews I will be trying to include a disclosure tag explaining where the gear came from. I'll also be working backward through my existing reviews to add disclosure notices, though that is going to take some time. The ultimate effect of this, I think, is that I won't feel any temptation to sugar-coat a review. If you know I'm getting something for free, and I say only, 'best such-and-such ever', that would look a little fishy, wouldn't it? So on balance, I'm all for the new rules. I hope they have a positive effect on my work, and more importantly on the quality of reviews you'll find on other websites.
One final disclosure: SierraDescents earns the bulk of its income (such as it is) from affiliate-channel advertising on gear review pages. The FTC is silent on this subject, though you'd think this would be one of the more obvious potential conflicts of interest. Affiliate ads are the merchant/price text links you see on all my gear pages, like here.
If you happen to click one of these links to view a product and then make a purchase in about 30 days or less from that merchant, SierraDescents gets a commission (typically 5-10%) on the sale. Interestingly, most of the sales generated via these links come not on the actual product under review, but for something else, which does lessen the temptation to hype a product to try to sell it. For those of you interested in helping support the site, by the way, making purchases via my affiliate links (found on review pages only) is a very easy way to contribute. Note that these commissions come from the merchant's advertising budget—they are not surcharges—so you are always getting the best price available at that merchant.
I think of the affiliate model as just a more efficient form of traditional advertising, though many cash-desperate state legislatures are trying to make the case that affiliate-driven sales constitute a taxable event in which publishers are acting as an in-state sales force. This remains a hotly contested issue, as States do have a legitimate beef with the way online retailers get to avoid paying sales tax.
Anyhow, that's it for my confessions. If what I've described here is news to you, this is probably how most of the other small websites you regularly visit operate. I know I've heard rumors of bloggers making six-digit salaries and getting a wild array of free products, but that's not the case here. I do remain hopeful that someday my poor wife will be able to quit her soul-crushing civil service job in a windowless office in the bowels of Santa Monica. Until then, well, I'll just have to keep skiing.