December 25, 2010
Here's a slide show of my trip up San Jacinto Peak on Thursday. Speedster Brent and I went up the tram and then up the east face. Snowfall totals and icing were eye-popping higher up the mountain. Around Mountain Station and the ranger house, there was still probably a solid 2-3 feet of snow. The day was incredibly warm and windless. Snow turned gloppy as soon as the sun hit it, so skiing was on the challenging side. Amazing summit views, though, thanks to the clear air.
Standing on top of San J and looking down the north face reminded me that Snow Creek is simply one of the most magnificent big mountain routes in North America. Just don't get caught trying to climb or ski it! We went with the much easier (and legal) East Face descent. Note that rime on the summit boulders made it possible to ski directly off the true apex of San Jacinto—a rarity. Enjoy!
December 24, 2010
Clear skies and snowy peaks is the Christmas Day forecast here in the Southland. Expect impressive coverage above 9000 feet or so, and ice forests around the snow line. Here's a shot of current conditions on West Baldy's face, rising high above downtown—the classic postcard view from Kenneth Hahn State Park. Merry Christmas everyone!
December 21, 2010
LA Times has a story on how Mother Nature has fooled the forecasters this season. It's a nice rundown on some of the crazy ups and downs of the end of 2010 in SoCal, including a high temperature of 113° on Sept. 27, a heat wave just a week ago, and of course the Mother of All Storms that is currently upon us (more…)
December 20, 2010
There are only so many days in a row I can watch heavy rain pound the pavement outside my apartment. But that stubborn snow level refused to come down. Finally, on Sunday, I decided to take the initiative and go find some snow. I drove up to the parking lot at Manker Flat (or, at least, I tried to), parked my car, and started hiking up the Ski Hut Trail (more…)
December 16, 2010
In the What I Want for Christmas department, a little snow would certainly be nice. Here's one of the forecasts I track: San Jacinto Peak. Okay, before you get too excited, notice how low the snowfall totals are, despite what looks like 5-7 days of precip in a row. This is tracking depressingly close to par for a La Nina winter, with the storms kind of skirting the Southland. Better news when you go farther north: North Palisade.
So a Mammoth weekend is probably a good bet—if you can stand the drive and associated risks.
UPDATE: Okay, precip totals for the Southland are looking a lot better now, with heavy snow forecast for the mts on Tuesday. Unfortunately, the snow level is currently hovering around 9000′, so local resorts are pretty much hosed. Observation: high snow levels (ie, warm storms) are not what we expect in a La Nina year…
December 6, 2010
Maybe I needed a little space to make sense of this past winter. It seemed at the time like I just wasn't getting out there as much as I wanted, but now that I've edited all the photos into a single compilation, I realize…it was an amazing year. By any measure, it was the best year I've had in California. Any one of the many highlights would have made it a fantastic season on its own.
December 3, 2010
It's that time again: the holiday season is upon us. Time to start wandering overcrowded malls in the hope of finding that special something for that special someone—and maybe pick up a thing or two for ourselves. As 2010 draws to a close, and holiday decorations begin to appear, I find my thoughts dwelling on one thing in particular: wow, I didn't make nearly as much money as I was expecting this year (more…)
December 1, 2010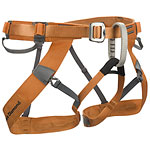 Black Diamond's Couloir is not the harness I'd want to be wearing if I was going to be hanging around all day, but short of that need, you'll have a hard time finding a better choice for ski mountaineering. That shouldn't be too surprising: ski mountaineering is exactly what Black Diamond had in mind when they built the Couloir (more…)