September 30, 2011
White Mountain, California — It would be a mistake to call White Mountain an easy fourteener (is there such a thing?). But it's not unreasonable to call White Mountain California's easiest fourteener. Which is kind of funny, because from three directions—north, east, and west—White and its 10K gains offer just about as grueling a climb as can be had in North America. Thankfully there is also the south approach (more…)
September 27, 2011
A quick check of my occasionally-reliable records indicates that on this day, September 26, one year ago, the high temperature recorded in downtown Los Angeles was 113°F. Yikes! I remember roasting in my apartment praying for the heat wave to snap. It was just absolutely miserable. No such worries today. It's been a cold Summer and a chilly Fall thus far in Southern California. I find I'm starting to eye my skis sitting in the corner more and more frequently…
September 22, 2011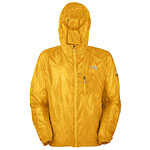 You've got to hold one of these to believe it. The North Face's ultralight Verto Jacket feels like a less-crinkly version of your average grocery store plastic bag—and I'm not talking about the heavy-duty variety. On my scale, a men's medium weighs 2.8 ounces, including a full zipper! And if that's not enough to astonish you, the Verto's 7D Pertex Quantum fabric is so sheer, you actually see through it (more…)
September 19, 2011
California's White Mountain, elevation 14,252′, offers a truly unique perspective of the High Sierra, allowing you to see essentially the whole of the range in one great sweep. In addition to Sierra looks you also get a wonderful view of Owens Valley to the west and Nevada's Fish Lake Valley to the east. This is certainly one of the more striking panoramas in the state. Enjoy!
September 16, 2011
The only way I can understand Sony's NEX-VG10 camcorder is to think of it as an experiment. In general, I'm all for experimentation, especially when it leads to new and unexpected designs. But there is a difference between previewing a prototype and asking people to pay money for a finished product, and in my opinion, the NEX-VG10 tilts resoundingly in the prototype direction (more…)
September 7, 2011
Arr, my shoulders are sore, which can mean only one thing…I've been waterskiing at Lake Powell! My brother invited me to join him for a day of fun on the lake.
Funny to say I spent a lot more time in the water when I lived in Arizona than I do living in coastal California, but it is understandable (more…)
September 5, 2011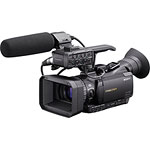 It's Fall 2011 and Sony at last is whole-heartedly embracing progressive video throughout its camcorder line, including the brand-new professional-grade NX70U, which utilizes the all-new and long-awaited 1080-60p AVCHD spec, recording full HD video at 28Mbps. A quick glance at the compact NX70U reveals a wealth of features seemingly ideal for documentary (and backcountry) videography (more…)