February 28, 2008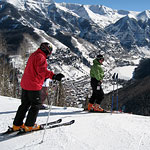 I've been skiing Colorado resorts for some time now, and I often find it hard to explain objectively why I like Telluride so much. Telluride certainly doesn't have Vail's snow or massive acreage. By mega-resort standards, it is a small mountain, hard to get to, and at best quirky when it comes to lift placement. And yet…standing atop Milk run this bright sunny morning, looking down at velvetty groomed perfection (more…)
February 26, 2008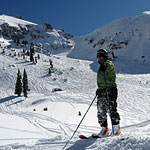 We knew a few things before we got here in Telluride. We knew they were having a near-record year for snowfall. I can verify that: today I overheard a ski patrol talking. He said he was going to have to retire—because there was no way things would ever be this good in his lifetime again. We also knew that Telluride had opened up some new hike-to terrain in the Palmyra Peak area. Skiers have been (more…)
February 24, 2008
Okay, you've made it to Telluride in more or less one piece, you've settled into your condo, and if you're lucky, your luggage will arrive sometime tomorrow. Wondering where the heck to get something to eat? Never fear: here's our first-ever, somewhat irreverent, certainly non-comprehensive, and hopefully not too libelous guide to fine dinning in the Town of Telluride, written from the snobby perspective of L.A. city dwellers whose restaurants are much, much better than yours (more…)
February 20, 2008
Time for some R&R over here. We're going to be hitting the road this week and next for a trip to Arizona and Colorado. I'm looking forward to skiing Telluride and checking out the new terrain that's open off Palmayra Peak.
Not sure how much of Palmayra is actually open, but I'm been wishing I could ski that summit ever since I first skied Telluride some 20+ years ago. Even getting to cruise the drainage below the peak would be fantastic—I expect the views are magnificent, even by Tell standards. I'll check in with more info about the terrain when I know more: what's open, what it looks like.
Until then, be mindful of unsettled weather in the CA backcountry, and have a safe week!
February 15, 2008
Cucamonga Peak has definitely been on my fantasy list for a long time. Who could resist that incredible south face? I ran some numbers on my Topo software, and of all the major Southern California summits, nothing comes close to Cucamonga Peak's combination of vertical relief and proximity to the city. That was very obvious when I climbed and skied it last Sunday—city views and technical skiing abound! (more…)
February 10, 2008
Travelers in the San Gabriel Mountains should be alert for unusually treacherous icy conditions on all north and shaded aspects (including NE and NW) between approximately 6000 and 8500 feet. I believe what we're seeing is the top layer of snow that covered the ice crusts from the last storms has melted away, revealing smooth glittering clear ice (more…)
February 9, 2008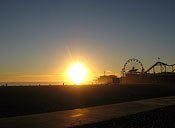 Seven days ago I watched the sun set from Mount San Antonio's west summit. Tonight, a much lower (and warmer!) perch: Santa Monica Beach, looking out toward the pier. With a bit of a heat spell picking up, temps have shot up, from 70's at the coast to 80's inland. Faced with such brutal weather, what is there to do but take the day off, hop on the bicycle, and cruise the strand along the beach? (more…)
February 8, 2008
Wondering what things look like in the Whitney region? How about a few Aerial Shots by a USMC pilot? Spectacular!
February 6, 2008
The San Francisco Chronicle reports two missing skiers have been found after they became lost in the backcountry near Alpine Meadows ski resort.
Both men are described as experienced adventure skiers, though according to the article, they did not intend to leave the resort on the day they became lost. Weather conditions were particularly foul that day, with high winds, a sustained blizzard, and white-out conditions. They apparently were unfamiliar with the resort and surrounding geography, and passed unaware beyond the boundary while skiing expert terrain in the blizzard.
What followed was a two day and two night ordeal in which they dug snow caves and slept on pine boughs, melted snow for water in plastic baggies, and followed a river downstream through heavy snow until a rescue helicopter spotted them. Aside from typical alpine ski gear and clothing, they had no backcountry equipment with them. The skiers certainly deserve credit for their survival skills, which kept them alive in life-threatening circumstances (more…)
February 4, 2008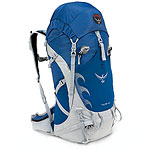 I liked Osprey's new Talon 44 backpack enough in summer to want to give it a try in Winter. At an unmatched two pounds, nine ounces, the Talon is Oprey's lightest multi-day pack, with an innovative frame that easily bests a traditional stay-and-framesheet design in stiffness and load-worthiness. Two pounds nine ounces puts the Talon in the daypack weight class. If the idea of carrying heavy winter loads (more…)