April 27, 2008
Saturday I skied Birch Mountain with a group of skiers from the Angeles Sierra Club's ski mountaineer's section. I don't get the opportunity to ski in groups that often, thanks to my schedule and reclusive personality, but I do enjoy it, and it makes for fantastic photo ops. The dynamic is also completely different when traveling with others as opposed to going solo. I naturally try to go with the flow (more…)
April 22, 2008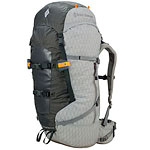 Just made a few quick edits to my Black Diamond Quantum review. I've now had the pleasure of using both 45 and 55-liter versions of the Quantum. I like the extra volume of the 55, because it makes it easier to sneak your ski boots into the pack for those oh-so-brutal dry Eastern Sierra approaches. So, no surprises here: I continue to love the Quantum. Of all the packs I've tried (more…)
April 21, 2008
Today's Notes from the Field come courtesy of my friend Bill, whose adventures on Mount Williamson served as an early inspiration to me on my own quest to ski California's second-highest peak.
Bill has a thing for the George Creek approach, which appears here and there in the guidebooks, usually with a sly 'recommendation' ala …for an extra-special adventure, don't miss this unforgettable Sierra bushwhacking classic… (more…)
Nalgene has just announced the phase-out of BPA-containing bottles from its product lineup, including all polycarbonate (Lexan) water bottles. Any way you put it, this is a stunning reversal from a company that has been an unwaivering advocate for the safety of Lexan/Polycarbonate. For interesting commentary on the subject, see Z Recommends' article, Hell Just Froze Over (more…)
April 15, 2008
Flagstaff had a great ski season this year, though, like California, the traditionally-big March ended up high and dry. Still, there's enough snow to ski on the mountain right now, so what better way to warm up the legs than put a 25 pound bundle of joy on your back, skin up the local ski run, and ski down? In case you're wondering, I'm using an Ergo carrier, which I really like above all the others I've tried (more…)
April 14, 2008
I'm in Arizona right now, going through old family photos and contemplating the meaning of life. Saturday I attended my grandmother's funeral in Phoenix. Thoughts of that upcoming occasion undoubtedly contributed to my feelings of impending doom while hiking and skiing Lone Pine Peak (not that the route needed any assistance in that regard).
We drove out Friday from L.A. to Phoenix, taking the 60. A black car appeared behind us, going extremely fast. They tailgated me for a short while, allowing me to look at the drivers' and passengers' faces–they all looked like kids. And then the car shot past us on the right, and accelerated away at a rate uncommon even for L.A. drivers (more…)
April 10, 2008
Sometimes as a writer you just don't know how much information to give. It would be easy to present this as a dashing adventure in which I fearlessly charged into the unknown and triumphed, except that's not at all what it was like. This was an intense struggle that really made me question myself and what I was trying to do. (more…)