May 31, 2008
If you've searched the web for information on a trail or peak, chances are you've come across a listing from Trails.com, a subscription-only website offering trail information and topo maps. For $49.00 per year, Trails.com claims to give you unlimited access to over 40,000 trail guides and topo maps for the U.S., Canada, and Mexico (more…)
May 30, 2008
If you're free this Saturday, Mount Baldy's San Antonio Ski Hut needs your help: (more…)
May 29, 2008
SMS Leader Alvin Walter sent me a few photos from the Sierra's Rock Creek drainage over Memorial Weekend. Alvin encountered 'full winter conditions' with up to a foot and a half of new powder. Looking at all that gorgeous snow, all I can think is, where were you three months ago! Sounds like those of you who braved the mixed forecast over the weekend got some excellent late-season skiing (more…)
May 28, 2008
I've updated some older content that had gone AWOL: a roundup review of several climbing helmet models I tried out over the past few seasons. My pick of the bunch (at the time) was the Kong Scarab, for its ultralight 8.6 ounce weight and amazing comfort. Basically, if I can think up an excuse to avoid wearing a helmet, I probably will. The Kong is light enough and comfortable enough to make it (more…)
May 27, 2008
The Freakonomics Blog at NYT has an interesting write-up of what they call Beauty Premiums: the benefits enjoyed by being attractive. One of the most objective ways to measure beauty's benefit is to simply look at wages, and this is what the Freakos do, in a series of provocative if not outright-disturbing studies (more…)
May 23, 2008
Late season storms aside, I've been looking forward to ditching the ski gear and switching to hiking and climbing. After all, summer camping in the Sierra is easier in almost every respect than winter. There is one big difference, however: in summer, we share the mountains with bears. I must say I ordinarily harbor no ill will toward bears, but as a hiker I find they present an added layer of complexity that (more…)
May 22, 2008
I was walking out my door today around 5 p.m. on the way to the grocery when the sudden rumble of thunder stopped me. Hmm…I guess those black clouds on the horizon weren't fog, after all. SoCal weather took a turn for the bizarre today, with the full gamut of weather phenomena. Here at the SierraDescents command center, we got heavy rain and lightning. For those unfamiliar with Southern California (more…)
May 17, 2008
With oppressive temps currently baking Southern California, I thought I'd escape for a moment by listing a few tips on melting snow for water that I've learned these past few seasons snow camping. What's attractive about melting snow instead of carrying water is you can save a lot of weight. One can of fuel can easily give you four liters of water or more, which would be prohibitively heavy to carry up the mountain (more…)
May 16, 2008
Climbing Mount Williamson via Bairs Creek leaves you with a lot more than memories (and scratches): you also get gummed up with quite a bit of pine pitch. It gets on your clothes, your hair, and your gear. So what do you do when you come home with everything covered in sap? Well, assuming you resist the temptation to just back your car up against a dumpster and get rid of everything, you'll probably want to find some way to clean off the sap.
I know of two cleaners that work effectively against sap (more…)
May 11, 2008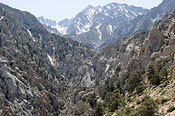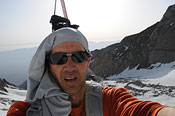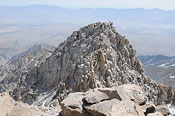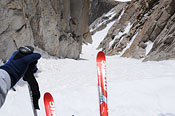 THIS JUST IN: Climbing Mt. Williamson is still Hard.
Really Hard.
SierraDescents personally verified this yesterday, with an ascent and ski of the south-facing couloir between Mt. Williamson's East and West Horns, accessed via the Bairs Creek Cirque. Ironically, I had no intention of trying this route this year, but a friend was interested in doing it. That got me thinking about trying to climb the horns, and ski the south-facing chute from the notch. Ended up doing it solo because of schedule snafus (more…)