February 27, 2009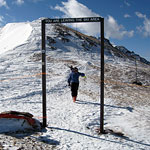 Backcountry Access
Hiking the Ridge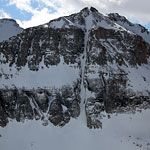 San Joaquin Couloir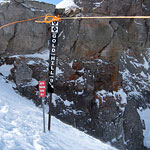 Gold 9's Access Gate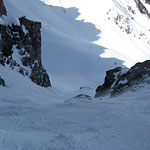 Looking Down the Chute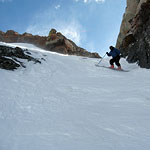 Skiing the Upper Chute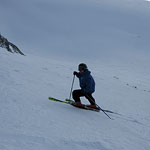 Lower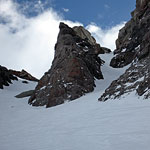 Gold 10 & Patrol
Gold Hill Chutes 6-10
9:44 am atop Telluride, elevation 12,570′. A cold wind blasts across the ridge as my brother and I hop off the Revelation Lift and check the signs near the patrol hut.
Telluride's Gold Hill Chutes are open.
It's our last day here this year, and this will be a fine way to cap off the visit—hiking the latest addition to Telluride's seemingly ever-growing offering of stunning hike-to terrain.
Our target today is Gold 9, the second farthest of the chutes. The scouting report on Gold Hill Chute No. 9 suggests that this is the safest and least technical line, at least given current coverage.
The hike to the Gold Hill Chutes takes us immediately out of bounds, though the resort's backcountry access gate. This is perhaps a good reminder that we're entering wild country here. Though the chutes themselves may be controlled terrain, the hike is anything but trivial.
In fact, with the wind constantly rocking us, the hike atop the often-steep and exposed ridgeline will be by far the scariest part of the day.
The views, as usual, are stunning. San Joaquin bowl is to our left, as well as the uber-aesthetic San Joaquin Couloir.
A last bit of steep, rocky ridge climbing gets us to Gold 9's entrance. Access points to the Gold Hill Chutes are tightly controlled. Entry is through gates only—to help prevent the hapless from dropping into cliff-bound lines.
I take a peek down the chute and am pleased to see first of all that we are where we though we were (always good) and that Gold 9 does indeed look (to me!) like a modest descent: 40-45 degrees on hard windslab, with only a few rock gardens below to add a bit of drama.
The fact of the matter is that this kind of skiing is what I do. But how can I convey how unusual it is to be accessing terrain like this as part of a major U.S. ski resort's controlled in-bounds terrain?
It makes me want to kiss the nearest ski patroller.
I bang out a few happy turns, being careful to keep things well under control. My brother follows, looking perhaps a tad more wide-eyed as he drops into the chute.
On hard snow this is somewhat committing skiing, but it's easy to imagine dropping in to smooth tasty powder. Telluride's ski patrol are doing an amazing job of opening up these lines, along with nearby Palmyra Peak, even when the snow is fresh.
Lower in the chute the angle stays interesting. I stop to take a look at our neighbor, Chute No. 10. A ski patrol is currently doing the delicate dance of making his way through the narrows.
Gold 10 definitely looks like a more ambitious line.
We'll have to give it a try next time.
A few more turns get us into the rolling terrain of Black Iron Bowl. Here, the snow is not so friendly: breakable crust alternating with windboard, with flat light to boot.
We pass through easily enough, and just like that we're back into Telluride proper, skiing perfect corduroy groomers back to the Gold Hill Lift. This abrupt transition of in and out-of-bounds terrain can take some getting used to—but it surely puts a smile on my face. We've just skied the kind of terrain that ordinarily takes hours to access. And now we're back in time for lunch.
February 22, 2009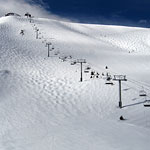 Revelation Bowl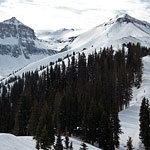 Telluride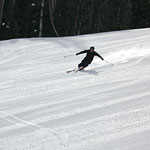 GS Boards Today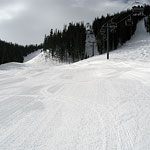 Chair 9
It feels like Europe says my brother. We are traversing into Telluride's newest terrain addition: Revelation Bowl. And yes, I think to myself, that's exactly what this is like.
With its striking, high altitude bowl, steep, wind-hardened snow, and views of technical terrain in every direction, Revelation Bowl could easily be mistaken for the French Alps. There's even a euro-style view deck by the base of the chairlift from which to sip beverages and marvel at the surrounding San Juans.
The Revelation chair hardly adds huge swaths of terrain to Telluride's already-impressive official sweep. Instead, this addition is more of a tweaking of the Telluride experience—or perhaps a continuation of the inevitable evolution toward high-altitude open bowl skiing.
With lift-served skiing now reaching 12,570 feet, Revelation Bowl sits well above tree line, offering groomed and wild terrain that feels exposed enough to put the butterflies back in your in-bounds ski experience.
A few runs of this, and my brother and I zip back to chair 9's steeps, which suddenly feel a whole lot flatter. Yep: just like Europe.
It's Day One of our yearly week in Telluride, and already the mountain has offered up a memorable start. Adding to the attractions: the Gold Chutes are open for hike-to skiing. These steep-skiing lines were officially closed to the public last year—at least while we were visiting.
And of course, there's always a date with Palmyra Peak on the agenda. This year I've got my full backcountry kit to make the Up a little easier, plus two beacons, just in case my brother decides to join me. As for true backcountry endeavors, I think I'm going to do my best to behave. Solo ventures in unfamiliar waters really aren't smart. Maybe if it was March—though I'd sure love to drop down into Bear Creek Canyon. Maybe peek into San Joaquin Peak's north couloir as well…
February 21, 2009
If there's a prettier mountain in the world, I don't want to know about it. Here's my hometown mountain, the San Francisco Peaks (Arizona's high point), as seen from the north. The prominent snowfield off the main summit, with its three fingers, is Abineau Canyon—certainly one of the biggest, most aesthetic backcountry ski descents in Arizona (more…)
February 19, 2009
We're here in Flagstaff, AZ, en route to Colorado for our annual family ski vacation, and I've got my tent set up in my parents' yard. No—it's not that my folks are driving me crazy. With overnight lows an invigorating 8° and two to three feet of snow all around, I thought now would be an excellent time to set up a snow camp and run a few tests. (more…)
February 17, 2009
Avalanche professional Jeff Pierce will be teaching a Level I avalanche course in the Southern California region next week, with classroom work scheduled for 7-10 p.m. February 24 and 26, and in-the-field work on Feb 28 and March 1 at Mount Waterman. Price including lift ticket is only $200. According to Jeff, the course will be a modified Level I with more emphasis on snow pit study and stability tests (more…)
February 15, 2009
Maybe Yes Maybe No was kind of the theme today. I was looking for an excuse to stay home, but with our ever-changing forecast pushing the expected storm one more day yet again, I figured Mount San Antonio's Baldy Bowl had had time to stabilize, so why not go tromp around in the snow and look around? (more…)
February 9, 2009
Can this possibly be Southern California backcountry skiing?
YES!!!
February 7, 2009
It feels like the SoCal ski season just got a last-minute governor's reprieve. As of Saturday morning, this series of storms has left a reported 36″ of new snow at Mt. Baldy Ski resort, 18-24″ at Mountain High, and 10″ in the Southern Sierra. Be aware that much of this snow fell on bare ground or bare ice, and a lot fell in a short span of time, making backcountry travel potentially hazardous this weekend until the snowpack has had time to settle. If you can't abide resort skiing, choose conservative low-angle terrain and assess conditions constantly (more…)
February 4, 2009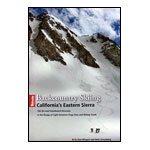 Mammoth Lakes climber/photographer Dan Mingori and Eastern Sierra Avalanche Center co-founder Nate Greenberg have released a new backcountry skiing guidebook, Backcountry Skiing California's Eastern Sierra. Backcountry Skiing limits its coverage (mostly) to the Mammoth regions, but oh what coverage it is (more…)
February 2, 2009
Well, while I've been wallowing in despair over the lack of snow in the local mountains, some of you have apparently been going out and skiing, which is admittedly overall a better way to spend your time. SoCal skier Brad H. was kind enough to send in a photo of Jepson Peak, in the San Bernardino Mountains, from this past weekend. Where did all that snow come from? (more…)