November 30, 2011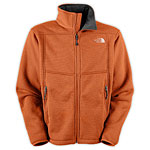 I'm a big fan of non-fleecy fleece. Yes, we all know the performance advantages of fleece, and we've all got at least one fleece jacket lurking somewhere in our closets—but does anyone actually like the stuff? Given the choice of fleece versus a cotton sweatshirt, I'll take cotton every time, except those times which require fleece (more…)
November 28, 2011
One of the most satisfying things a great film can do is also one of the simplest—it can take us someplace we've never been before.
Michael Angus and Murray Fredericks' film, 'Salt', takes us deep into the immense 3,700 square-mile salt flat of Australia's Lake Eyre—perhaps the most featureless place on Earth (more…)
November 22, 2011
I was skeptical as to whether or not I'd like the 'The Swiss Machine', but it was definitely on my must-see list.
Ueli Steck's fame skyrocketed when he successfully soloed the north face of the Eiger in an astonishing 2:44:33. 'The Swiss Machine' not only tells the story of the climb—it actually shows us the climb (more…)
November 21, 2011
Well that was an unexpected hello from winter! The weekend storm proved to be a potent one, hammering the Southland and dropping impressive November snowfall in the mountains. Mountain High says 5-10″ of new snow, Mt. Baldy says six inches, and Mammoth reports 12″ over the last 24 hours. Note that Mountain High, Snow Summit, and Mammoth are already open for skiers for the 2011-2012 season. For Big Bear visitors, the blasted highway is at last open, meaning you won't have to take the bypass any more—thank goodness.
November 20, 2011
I had no idea I'd be going to Austria until about two weeks beforehand. Given more time, I might have tried to learn some rudimentary German, but instead I focused on other preparations. I thus arrived in Graz knowing roughly three German words, none of which I could pronounce correctly (more…)
November 17, 2011
Anson Fogel's 19-minute Alpine documentary 'Cold' was one of the films I was most looking forward to seeing in Graz.
The film documents the efforts of Simone Moro, Denis Urubko, and American Cory Richards, who on February 2, 2011 became the first people to summit Pakistan's 26,362-foot Gasherbrum II in winter (more…)
November 14, 2011
Back home in L.A. now, having flown in from Graz via Munich last 'night'. My plane took off from Munich in daylight and promptly headed north into darkness. Eventually, somewhere up around Greenland, we turned west and soon chased down the sun, so that daylight returned. That plus clear skies made it possible to see an utterly ice-bound landscape (more…)