November 14, 2011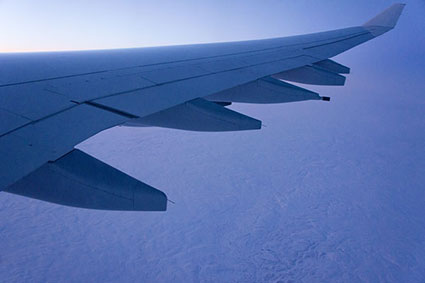 Back home in L.A. now, having flown in from Graz via Munich last 'night'. My plane took off from Munich in daylight and promptly headed north into darkness. Eventually, somewhere up around Greenland, we turned west and soon chased down the sun, so that daylight returned. That plus clear skies made it possible to see an utterly ice-bound landscape (more…)
October 14, 2011
I have a lot of lists. When I realize there's something I need to do, I write it down so I won't forget. My list making exploded soon after I became a father, because the added complexity of tracking one (and now two) extremely fast and mobile and clever little persons 24-7 so taxes my poor mind that otherwise I'd forget things left and right. So: lots of lists, all done in my marginally-legible on-the-way-to-schizophrenic-conspiracy-theory handwriting (arrows included) (more…)
October 6, 2011
"Are Space Monsters imaginary creatures?" my son asks this morning, waking me at the usual 6a.m. Hmm… That's kind of an interesting one. You see, if you believe that a Universe as big as ours has probably spawned life on planets other than just Earth, then there are Space Creatures out there, somewhere, and no doubt by my son's criteria, they are indeed monsters. So, maybe the answer is no, Space Monsters are not imaginary, they're real.
But that kind of opens a whole can of worms, so to speak, that might be best avoided. And this entire line of logical reasoning calls into question other assumptions, such as, are dragons real? I mean, if you're going with the infinite-combinations-in-infinite-diversity argument, there just might be a dragon (or effectively the same thing) living on some planet out there, somewhere. Hmm. Maybe the best answer right now is to just close my eyes and go back to sleep…

September 27, 2011
A quick check of my occasionally-reliable records indicates that on this day, September 26, one year ago, the high temperature recorded in downtown Los Angeles was 113°F. Yikes! I remember roasting in my apartment praying for the heat wave to snap. It was just absolutely miserable. No such worries today. It's been a cold Summer and a chilly Fall thus far in Southern California. I find I'm starting to eye my skis sitting in the corner more and more frequently…
April 15, 2011
Here's how it went down: my wife had my wallet. I needed lunch, so I broke into my emergency stash of credit cards, the ones I never use, activated one, and bought myself a hot dog. Then I waited for a billing statement that never came.
Eventually, I remembered using the card, and checked in to see why the statement was late. Of course, by then the account was overdue. According to the helpful bank representative, at some unknown point I'd switched that account to paperless statements. I mentioned I'd never gotten a statement, paper or otherwise…Would I like to pay the balance now, the rep inquired helpfully (more…)
February 9, 2011
Over Christmas I bought a space heater for my room at my parents' house in Flagstaff, which tends to be cold. I liked the heater so much I decided to get another one when I got back to my L.A. apartment, which also tends to be cold. Problem was, the one I got in Flagstaff was black, and in California (in fact online as well) I could only find silver versions of the model I liked. No big deal…but I really liked the way the black heater looked. Is it crazy to care that much about the color of your heater? Maybe (more…)
November 21, 2010
There are a number of conversations I'm dreading having with my son. One of them is in the process of just beginning, courtesy of the UFC commercials which inconveniently appear on television during some of the shows my son watches. In my son's conception of the world, you see, grown men don't hit each other in the face (more…)
October 8, 2010
An interesting question popped into my in-box yesterday: is it possible to see the Grand Canyon from the top of Mount Whitney? In fact I ask myself questions like this all the time, especially when I'm looking at shots of the interior Sierra and trying to identify distant peaks or other features on the horizon. Happily, I've found a free tool that is absolutely brilliant for coming up with the answers to exactly these kinds of questions. Can you guess what that tool is? Hint: it's not evil…
October 2, 2010
It's official: after more than a year's hiatus from working out, I went back to the gym today to try to get myself in shape for the upcoming ski season. I must say I approached this venture with no small degree of anxiety. After such a long break from exercise, starting with my back injury and then the birth of my daughter (and many, many sleepless nights thereafter), I was afraid I'd find myself hopelessly floundering when I hit the iron.
As feared, I was a lot weaker. I could just barely press twice my body weight, and at the squat rack I started with four plates per side but had to drop down to three to bang out my fifth set—pretty pitiful. Afterward, instead of riding my bike straight home, I decided to do a fifty-mile loop around the PV peninsula to try to shock my body into waking up.
Okay, maybe it didn't go exactly like that. Truth be told, my left biceps is the only part of my body that isn't a total wreck, and that's because I'm constantly holding my daughter in my left arm as I try to open my car door, unfold the stroller, and carry her up and down the stairs. Is there anything as demoralizing as returning to the gym after a long layoff? The only good news is that it's still early, and there's still a little time to try to build a little muscle before the snow get here.
July 4, 2009
Well, I've reskinned most of the interior pages of sierradescents back to the good old boring gray. I imagine the pink look raised some eyebrows for first-time visitors who were just looking for a gear review or two, but the occasion seemed to call for more than just business as usual.
I think I'll leave the pink pages up here on the home page for a while longer. Last night was our daughter's first night home. She would cry and I did my best to get her back to sleep. Then our son would start crying in his room, so I'd go there and calm him down. Then I'd get back in bed and our daughter would cry again. And back and forth. Maybe I should rekindle my old "this is good training for Williamson" mantra.

Speaking of Williamson, since I'm going to be on climbing hiatus for July (most likely), I'm thinking of trying to do a write up a trip I did two years ago up the West Face in June. I got a lot of good photos from that, but never got around to writing about the hike. Doing Williamson via Shepherd Pass and the West Face is a great step up from Whitney's Mountaineer's Route, if you're looking for a next-big-trip kind of progression.
For now, there will be a lot more diapers than dihedrals in my immediate future, so please forgive me if updates are a little sparse. I am tossing in some new gear reviews here and there, but if you're like me, you'll want a little more meat with your content. Happy 4th of July everyone!
→ More SierraDescentsPrevious Posts ↵