March 31, 2009
The upside of April showers is…fresh tracks on the hike-to terrain. Did the walk up the ridge to the top of Black Iron Bowl's Dihedral Chute. This is just such a fun, classic line, and getting it with untracked powder was oh-so-nice. What a beautiful day this was! There's hardly anybody on the mountain right now, so there was no rush to get untracked snow even on the lift-served stuff. New storm supposed to be (more…)
March 30, 2009
Checking in here from Telluride, Colorado. This was totally a last-minute trip, but opportunity came knocking, so I thought I'd shirk my Sierra responsibilities and head east to the Rockies. Funny thing: it just never crossed my mind that I'd see anything other than spring skiing over here. Because I was flying, I stripped out all my winter gear to get down to one bag. Ha Ha MF says Old Man Winter.
This morning I was riding up the Village Express in little more than a sweatshirt and a windbreaker with the weather doing a very respectable impersonation of January: temps in the single digits, winds and blowing snow—your basic blizzard scenario. I didn't even get one run in before I realized I was ridiculously underdressed. Headed straight for the nearest ski shop and no doubt did some good work for the local economy by going on a clothes-buying frenzy.
Cold! Forecast looks like snow all week. I suppose there's some sort of be-prepared lesson here for mountain travelers, but come on! It's April! Where's my slush and sunshine?

March 28, 2009
Just a heck of a fun day today at the Arizona Snowbowl. Some kind of an informal race going on at the resort, so the place was filled with kids in costumes. That kind of completed the picture: warm Spring skiing, smooth silky corn, lots of good vibes. Perfect.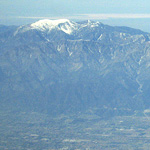 Mount San Antonio
Mount San Jacinto
Hopped a flight to AZ yesterday, en route again to Colorado for a little fun. I got a chance to snap a few photos of the Southern California mountains to check snow conditions.
Things look pretty burnt.
Baldy Bowl is starting to look bare, even above the Ski Hut, though I'm sure there are still a few good snowfields to be found. Interestingly, the South aspects between the two summits still look terrific.
Gorgonio has snow, and presumably the north aspects are still in good shape on both mountains. Our flight took a sort of angle over San Jacinto. Didn't get a chance to see the Snow Creek route (north facing), but I got a great view of Round Valley and the east face.
March 26, 2009
Various net sources are reporting that Shane McConkey has died in Italy in a basejumping accident. The Tahoe Daily Tribune has one of the more detailed reports available at present.
McConkey was nothing less than an artist when it came to skiing and big air. He was a pioneer in the high-stakes game of combining skiing and parachuting, and has been featured in numerous ski films, including Steep. There is no question the man pushed the envelope of risk, but his skiing was inspirational, representing a huge evolution of the sport of extreme skiing.
Statistically, McConkey's death was probably inevitable. Then again, all of our deaths are inevitable, statically or not. McConkey got to experience things most of us only dream about. While the rest of us were bound always by the laws of gravity, McConkey over his remarkable career seemed almost to have been granted some sort of magical exemption. Almost.
McConkey was 38. He leaves behind a wife, Sherry, and a daughter, Ayla. Our thoughts and prayers go out to Shane's family, and the many friends he leaves behind.
more: TetonAT has this.
March 24, 2009
Well, with a title like this, how can you resist? If I'm reading this correctly, these guys were attempting a winter ascent of Lone Pine Peak's Northeast Ridge—a Big Route, by any standard. The interesting thing is that nowadays with forums and digital cameras, you get to read first person accounts not just when people successfully summit, but also when things go awry and SAR is called. Also don't miss this: a bonus Trip Report addendum posted by the climber's girlfriend.
A Beacon Search
"Hasty Search" was originally the title given to the first location effort in a search and rescue operation. This phase, obviously, takes place after a qualified individual has assessed conditions for existing hazard and the decision has been made to put people into the search area.
Hasty search has now been renamed "Immediate Search," presumably because of unwanted connotation with the word haste (ie, careless), but I like the original terminology, as it best captures (in my opinion) the priorities of this phase of the rescue (more…)
March 23, 2009
Went up Sunday to ski in-bounds at Mount Baldy. It was one of those kinds of days that only a mother could love: high wind, no visibility, and cold, damp air that coated everything in ice. As for the skiing, the new snow was scattered in drifts everywhere like washboard ruts, forming a patchy covering over the frozen spring corn beneath. Pretty darn ugly conditions. Luckily, Mount Baldy will sell you a ski-by-the-hour ticket (more…)
March 21, 2009
The greatest high-wire act on television came back to Earth last night—in more ways than one. It's not entirely fair to say Battlestar Galactica's legacy will be determined by "Daybreak", the series finale, but the last episode is the capstone on the series, and it will be remembered as either expanding the show's breathtaking streak of brilliance, or revealing, at last, that the show's creators are in fact…human (more…)
March 19, 2009
Baldy Bowl Avalanche
One of the most jolting things I learned this past weekend at the Southern California National Ski Patrol's one-day avalanche rescue course was, paradoxically, the importance of self rescue.
By "self rescue" I do not mean cultivating the magical ability to dig oneself out of an avalanche, but rather rescue initiated and completed by members of the actual party involved in the avalanche (more…)