January 14, 2011
I've been holding off announcing this until I was sure it was official, and now it is: my documentary, The Couloir to Nowhere, will be screening as part of the Ski Channel Film Festival at SIA Denver on Saturday, January 29, at 5pm. I'm planning on attending the showing, and Dave The Man Braun should be there as well (more…)
January 7, 2011
One of the niftier gifts I got this past Christmas was a Garmin Nuvi. But I wasn't the least bit interested in sticking it in my car to get directions—no, I wanted instead to use its GPS-derived peak speed feature instead.
The Nuvis give you a continuous (and pretty impressively accurate) speedometer that you can use to measure yourself doing just about anything. Such as, settling once and for all a long-running discussion between my brother and me, both of us former Alpine racers, which is, just how fast do we ski, exactly? (more…)
January 1, 2011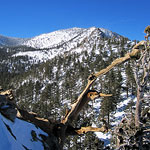 Back to San Jacinto I went for the last skiing day of 2010, this time with the man formerly known as the man formerly known as Bullet (ie, once again Bullet. Or Bill–Just don't make him angry…) Our plan was to climb up Cornell Peak and ski whatever might be skiable. As usual, however, thanks to my infallible sense of direction in desert ranges, we ended up climbing the wrong peak (more…)
December 25, 2010
Here's a slide show of my trip up San Jacinto Peak on Thursday. Speedster Brent and I went up the tram and then up the east face. Snowfall totals and icing were eye-popping higher up the mountain. Around Mountain Station and the ranger house, there was still probably a solid 2-3 feet of snow. The day was incredibly warm and windless. Snow turned gloppy as soon as the sun hit it, so skiing was on the challenging side. Amazing summit views, though, thanks to the clear air.
Standing on top of San J and looking down the north face reminded me that Snow Creek is simply one of the most magnificent big mountain routes in North America. Just don't get caught trying to climb or ski it! We went with the much easier (and legal) East Face descent. Note that rime on the summit boulders made it possible to ski directly off the true apex of San Jacinto—a rarity. Enjoy!
November 17, 2010
Sometime during the '09-10 winter, a large avalanche took place along the NE side of Alto-Diablo Peak, wiping out a portion of the South Fork Trail somewhere slightly southeast of Poopout Hill. When my partner and I saw the remains of the slide that April, toward the end of the season, it was obvious it had happened months earlier. But that doesn't mean we weren't spooked by what we saw (more…)
November 6, 2010
My friend Dan is going skiing on Monday…for a year. After a brief tour of several U.S. ranges, he and his wife will leave for the Himalaya, with plans to summer in the Andes after that. Aside from the overwhelming jealousy I feel watching them go, I'm also so stoked that they've managed to turn a long-time dream into reality. I did a little bit of traveling when I got out of school, but the truth is I really didn't appreciate the freedom I had at the time. And I certainly didn't take advantage of it. So to those of you whose ties are currently loose and whose eyes tend to look to the horizon, I say go for it (more…)
August 19, 2010
In the unlikely event that Mt Baldy Ski Area hasn't already flooded your inbox with announcements, I feel obligated to post notice that the Chamber of Commerce Virtual Passes are on sale again for the upcoming 2010-2011 ski season, now priced at $99. These work just like a regular season pass, except they're subject to a daily quota of between 500-1000 passes. You must make a reservation by midnight prior to the day you want to ski. If a quota slot is available, you're good to go. If not, show up anyway and get 50% off the price of a full adult ticket (more…)
June 5, 2010
Hooray—sort of. It's probably not news to you by now, but Tioga Pass Road has opened for the 2010 season as of 8 a.m. Saturday. Bummer of course is that this year's opening coincides with psycho high temperatures in the mountains. The forecast I watch was calling for a high of 61 today at the 12K level in Palisades. Obviously, Dana Plateau and lower is probably cooking today. If you do get up there this weekend, get it early. And let me know how it goes.

May 8, 2010
Looks like this weekend is it for skiing at Mt. Baldy resort. I was there yesterday to enjoy one last day on my pass, closing out what has been a surprisingly strong year at the always-quirky Mt. Baldy ski area. Rumor is Mt. Baldy got a double cash infusion this past season, first from a new investor, and then from the sale of those variously priced Chamber of Commerce passes (more…)
April 24, 2010
If there is one singularly conspicuous omission in the SierraDescents repertoire, it is unquestionably a ski descent of San Jacinto Peak via Snow Creek. There are many fine peaks and routes to covet in California, but among ski mountaineers in the know, Snow Creek stands alone. To those unfamiliar with the San Jacinto Mountains, their scale may well sound like a misprint. From the low point in Coachella Valley (more…)
→ More SierraDescentsPrevious Posts ↵